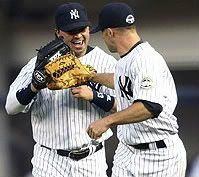 ESPN will be televising the Gold Glove Award show tonight at 10pm EST. I think it is a cool way to present an award but only if the award had, you know, good nominees.
The problem with the Gold Glove Award in recent years is that they have been awarded to horrible defenders who have faired well on offense. Sadly, an award that is meant to be awarded to the players with the best glove usually goes to someone who is a big name or put up good offensive numbers. It's tragic.
I prefer The Fielding Bible Awards to the Gold Glove Awards because they actually look at the defense and have a panel of people who care about who wins the award.
With that said, here is who I would vote for at each position to win a American League Gold Glove Awards:
Note: I did not include pitchers because I do not believe the metrics are enough for me to conclude a solid choice.
Filed under: Digging Deep - Analysis | Tagged: Adrian Beltre, Adrian Gonzalez, Austin Jackson, Baltimore Orioles, Boston Red Sox, Brett Gardner, Detroit Tigers, Gold Glove Award, Ian Kinsler, J.J. Hardy, Matt Wieters, New York Yankees, Nick Swisher, Texas Rangers | 1 Comment »