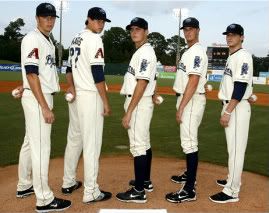 (Photo by Chip English/Mobile BayBears)
I am kicking off my top prospects lists with one of the deepest systems in all of baseball, the Arizona Diamondbacks. They have more pitching depth than any system in the game I have seven of their top eight prospects as pitchers.
Why top 16? Well, because I can choose which ever number I want and it is one of my favorite numbers thanks to my favorite athlete of all-time: Joe Montana. And the number is arbitrary enough to get people asking "why 16 prospects?" Other than those, there is no real reason as to why I chose 16.
Below are my top 16 prospects with 2012 opening day age and position and comments on each player. Below the top 16 is a small list of notable names. Enjoy.
Filed under: On the Farm - Prospects | Tagged: 2012 Top Prospects, A.J. Pollock, Adam Eaton, Andrew Chafin, Anthony Meo, Archie Bradley, Arizona Diamondbacks, Bobby Borchering, Chris Owings, Collin Cowgill, David Holmberg, David Nick, Jarrod Parker, Kyle Winkler, Marc Krauss, Matt Davidson, Patrick Corbin, Prospects, Rossmel Perez, Ryan Wheeler, Trevor Bauer, Tyler Skaggs, Wade Miley | 14 Comments »