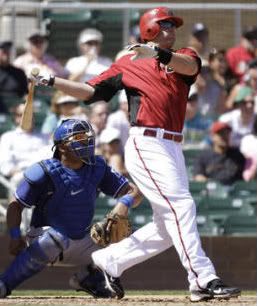 Continuing on from yesterday's AL Predictions are my NL predictions. I honestly cannot wait to see the reactions when I tell everyone that…
Atlanta Braves – Nate McLouth is going to revert to 2009 form and go 20/20 with a .350 OBP. Craig Kimbrel will save 20+ games and strike out 100+ as part of the best relief squad in the Majors. Chipper Jones will hit .300 in his final season. Mike Minor will replace Brandon Beachy as the 5th starter by June.
Arizona Diamondbacks – Russell Branyan will set a career high by hitting 35 or more homeruns this season. That's right! All he needs is playing time and I predict he will gain 3B eligibilty. Joe Saunders will have an ERA north of 5.00. David Hernandez will lead the team in saves with less than 20.
Chicago Cubs – Tyler Colvin will get 500+ plate appearances but will not hit more than 25 homers. There will be more "head case" headlines about Matt Garza than there will be about Carlos Zambrano who will be the better pitcher of the two this year.
Cincinnati Reds – 2010 was more Brandon Phillips norm going forward and he will continue a decline offensively to the tune of .260/.320/.420 at best. The starting rotation will be called overrated by September. Drew Stubbs will be more valuable when factoring ADP than B.J. Upton in fantasy. Jay Bruce will hit 30+ homers but lose defensive value and not be more valuable than he was last year according to fWAR. Aroldis Chapman will finish with less than 5 saves and an ERA above-4.00.
Colorado Rockies – Troy Tulowitzki will win the MVP and be worth close to 8.0 fWAR. Dexter Fowler will break out this year. Jose Lopez still will not hit and be a terrible defender and Ty Wigginton will club 20+ homers. Jason Hammel will finally match his performance with his FIP and post an ERA below-4.00.
Florida Marlins – Mike Stanton will hit 35 homeruns and be very humble about it. Anibal Sanchez will pitch 200+ innings of 3.25 or lower ERA and 175+ strikeouts. Omar Infante will hit closer to his career slash-line of .274/.319/.395 than his last two year's .316/.359/.408. The 3B position will struggle to combine for a positive fWAR.
Houston Astros – Wilton Lopez will end up with double-digit saves. Brett Wallace will hit .285/.345/.450 and give the Astros hope for the future. The shortstop position will the weakest in the league offensively. Jordan Lyles will be up and be their best pitcher after the trade deadline.
Los Angeles Dodgers – Juan Uribe will set another career high in homers with 25 this season. Jonathan Broxton may lose the closer role but he will still strike out 90+ with an ERA below-3.00. Matt Kemp will be worth +5.0 fWAR or better. Left field will be a revolving door that will never stop and be lucky to produce at a higher level than replacement. A.J. Ellis is the best catcher on the roster but will see the least amount of time.
Milwaukee Brewers – Shaun Marcum will mail a thank you card to the Blue Jays for trading him out of the AL East and will post 200+ innings of 3.25 or lower ERA and 175+ strikeouts. Carlos Gomez and Nyjer Morgan will combine for a wRC of 85 or lower. Jonathan Lucroy and George Kottaras will combine to hit 20 homers.
New York Mets – Carlos Beltran will reach 500 PAs and hit .280/.370/.470 or better. Angel Pagan will again be worth more than 4.0 fWAR. Francisco Rodriguez will not meet his Games Finished clause wheter he finishes the year out with the Mets or not. The Mets will have a fire sale in July and post a better record in the 2nd half and play "spoiler" to postseason contenders.
Philadelphia Phillies – Ryan Howard continues his Cecil Fielder impersonation and hits worse than he did in 2010. Ben Francisco will hit 20 homers and steal 15 bases. Roy Halladay will post even better numbers than last year.
Pittsburgh Pirates – Andrew McCutchen will hit 20 homers and steal 40 bases. Joel Hanrahan will save 30 games and strike out 100+. James McDonald will be the only starting pitcher with more than 2.0 fWAR and he will have higher than 3.0 fWAR.
San Diego Padres – Tim Stauffer will log 175+ innings of sub-3.50 ERA and 125+ strikeouts. Brad Hawpe will lose his starting job by mid-June and struggle to hit above .250 with little-to-no power. Jason Bartlett will hit at least .285/.345/.425 and steal 20+ bases.
San Francisco Giants – Aubrey Huff will get off to a slow start and everyone will scream for Brandon Belt to get playing time. Which he will… in June, and contend for the Rookie of the Year Award by hitting close to .300 with 15+ homers. Jonathan Sanchez will be the best pitcher on the team.
St. Louis Cardinals – Colby Rasmus will hit 30+ homers and steal 15+ bases. Lance Berkman will bounce back to hit .275/.375/.475 with 20+ homers. Kyle McClellan will log 175+ innings of sub-4.00 ERA with 125+ strikeouts. Jason Motte will save 10+ games and record 70+ strikeouts.
Washington Nationals – Michael Morse will hit more homers than Jayson Werth and Adam LaRoche. Livan Hernandez will post an ERA north of 5.00 and allow 225+ hits in less than 200 innings. Matt Stairs will hit a homerun for the Nats, his 12th different team.
-Jonathan C. Mitchell can be found writing about the Tampa Bay Rays at his other site Figure Filbert and on twitter at @FigureFilbert
Filed under: Fantasy | Tagged: A.J. Ellis, Adam LaRoche, Angel Pagan, Anibal Sanchez, Aroldis Chapman, Astros, Aubrey Huff, B.J. Upton, Ben Francisco, Brad Hawpe, Brandon Beachy, Brandon Belt, Brandon Phillips, Braves, Brett Wallace, Brewers, Cardinals, Carlos Beltran, Carlos Gomez, Carlos Zambrano, Chipper Jones, Colby Rasmus, Craig Kimbrel, Cubs, David Hernandez, Dexter Fowler, Diamondbacks, Dodgers, Drew Stubbs, Francisco Rodriguez, George Kottaras, Giants, James McDonald, Jason Bartlett, Jason Hammel, Jason Motte, Jay Bruce, Jayson Werth, Joe Saunders, Joel Hanrahan, Jonathan Broxton, Jonathan Lucroy, Jonathan Sanchez, Jordan Lyles, Jose Lopez, Kyle McClellan, Lance Berkman, Livan Hernandez, Marlins, Matt Garza, Matt Kemp, Matt Stairs, Mets, Michael Morse, Mike Minor, Nate McLouth, Nationals, Nyjer Morgan, Omar Infante, Padres, Phillies, Pirates, Reds, Rockies, Roy Halladay, Russell Branyan, Shaun Marcum, Tim Stauffer, Troy Tulowitzki, Ty Wigginton, Tyler Colvin, Wilton Lopez | 4 Comments »