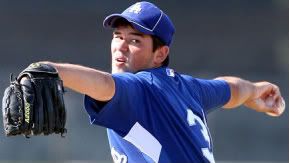 The Los Angeles Dodgers have a ton of pitching depth, especially in the right handed pitching department, but most of them look to be middle of the rotation guys, back end inning eaters, or relievers.
The team is almost completely void of position prospects in the infield but they do have a few upside plays in the outfield. The system is need of some top talent and depth and whoever buys this team should invest heavily in the farm system.
Below are my top 16 prospects with 2012 opening day age, position, and comments on each player. Below the top 16 is a small list of additional notable names. Enjoy.
Filed under: On the Farm - Prospects | Tagged: 2012 Top Prospects, Aaron Miller, Alex Santana, Alfredo Silverio, Allen Webster, Angel Sanchez, Angelo Songco, Blake Smith, Chris Reed, Chris Withrow, Ethan Martin, Garrett Gould, Gorman Erickson, Jake Lemmerman, James Baldwin, Joc Pederson, Josh Lindblom, Leon Landry, Los Angeles Dodgers, Nathan Eovaldi, Prospects, Zach Lee | 5 Comments »