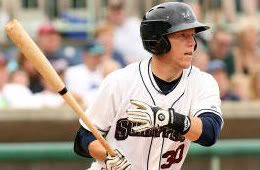 Picture by: Jesse Piecuch/Mahoning Valley Scrappers
For much of the past decade the Cleveland Indians have been in rebuilding mode. During that time a number of their top players have left or been traded as part of that process. One of the traded players was catcher Victor Martinez, who has been difficult to replace. However a new candidate has emerged to take over the catcher position in Cleveland, and his name is Jake Lowery.
The Indians thought they had found their new catcher with the emergence of top prospect Carlos Santana. While he has displayed a powerful bat, injuries have reduced his playing time behind the plate, and a permanent position change to first base or DH would likely maximize his value to the team. This transition will be likely possible because of Lowery, who was drafted in the 4th round of the 2011 MLB Draft.
Lowery is a powerful left-handed hitter who was a first team All-American at James Madison University. Scouts rave about his hitting ability, which includes impressive patience and an ability to take walks. The same scouts have expressed concern over his ability to be an adequate defensive catcher, but those fears are certainly premature. Prior to the 2011 season, Lowery was named the best defensive catcher in the Colonial League by coaches, and also named as having the best throwing arm. He definitely has the tools to potentially grow as a receiver as he progresses through the Indians' system.
The Indians undoubtedly took Lowery in the draft in large part because of his 2011 college season. In 61 games he hit .359 with an impressive 24 home runs and 91 RBI. His impressive hitting carried over into his first professional season. After signing, Lowery was sent to short season Mahoning Valley, where he hit .245 in 69 games with 6 home runs, 23 doubles, and 43 RBI. Perhaps even more impressive were the 54 walks he drew, contributing to a .377 OPB.
Lowery will likely start 2012 in A or High-A, and if he continues his impressive hitting, the Indians will do everything they can to develop him into their catcher of the future. With his college experience, he could move through the minor leagues quickly and make his way to a Cleveland team that is in bad need of impact players.
This past minor league season I was able to catch Lowery as he came off the field from batting practice. He gave me some insight about his experiences in baseball, allowing me to get to know a little better a player who is a good bet to become one of the best prospects in baseball in 2012.
Jake Lowery Interview:
Filed under: Down and Dirty - Interviews, On the Farm - Prospects | Tagged: Cleveland Indians, Jake Lowery, Mahoning Valley Scrappers, Prospects | 1 Comment »