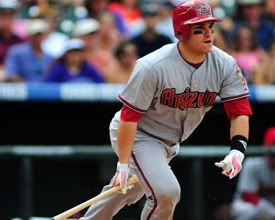 I am continuing to fill out my entire American League and National League All-Star rosters. I recently announced my AL and NL starting rosters and I will continue to reveal my reserves but from here on out I will do them by position. I have already selected Brian McCann and Alex Avila as my starters so here are my two reserves for each roster:
National League
Miguel Montero (ARI) - He is quietly having another phenomenal season. He is hitting .2767/.348/.472 with 9 homeruns and a wOBA of .357. He also leads all catchers in base running with +1.9 Bsr. He ranks 2nd in the NL among catchers in fWAR (2.4) and 1st in doubles (21) and extra-base hits (30).
Chris Iannetta (COL) – He leads all NL players with at least 200 plate appearances in BB% with an astounding 19.7% rate. Next on the list is Joey Votto at 17.2%. Sure, his .224 AVG may be low but he leads all NL catchers with a .384 OBP and .219 ISO, and ranks 2nd in homeruns (10), wOBA (.366) and wRC+ (123). He also ranks 3rd in fWAR (2.1).
American League 
Matt Wieters (BAL) – Wieters' stat line may not overwhelm anyone at .262/.315/.405 but he has thrown out 20 of the 48 potential base stealers this year. Not surprisingly he leads all catchers with +3.0 UZR and has been a key reason for the success of the Baltimore pitching staff. He has also shown some pop with 13 doubles and 7 homeruns and has been worth +1.8 fWAR.
Victor Martinez (DET) – This may be cheating a bit since he has only played 21 games at catcher and allowed 21 stolen bases in his time behind the plate but he is hitting a ridiculous .336/.383/.494 with a wOBA of .379 and has 20 doubles and 6 homeruns. If you claim he does not qualify then I would have to go with…I actually don't care if you don't think he qualifies. If I am picking my All-Star team, and that's exactly what I am doing, then I am taking V-Mart as my third catcher.
-Jonathan C. Mitchell can be found writing about the Tampa Bay Rays at DRaysBay and you can follow him on twitter at @FigureFilbert and follow MLBdirt at @MLBdirt
Filed under: Digging Deep - Analysis | Tagged: Alex Avila, All-Star Game, Brian McCann, Chris Iannetta, Joey Votto, Matt Wieters, Miguel Montero, Victor Martinez | 1 Comment »