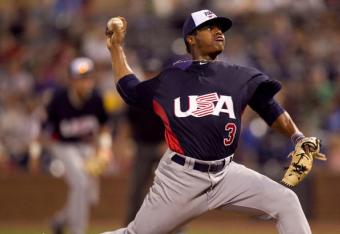 Marcus Stroman was a pretty big wild card heading into the 2012 draft as to where he would be picked. There was no doubt that he was a first round pick and that he had some of the best stuff in the entire draft but what held him back was the concerns about his small build. He slipped down to the Blue Jays at pick 22 who signed him for $1,800,000 which was full slot value for the pick.
The Blue Jays sent Stroman to the Vancouver Canadians in the Northwest League and they would be working Stroman as a reliever for the remainder of the season. When I heard this, the first thing I did was check the Everett Aqua Sox schedule to see when Vancouver was next coming to town. The pitching matchup that day was a headline matchup between Roberto Osuna and Victor Sanchez. I wrote up Osuna last week and you can view that report here. That matchup was already a treat in itself but right before I left I found out that Stroman would be pitching that night.
For the Canadians, the Blue Jays were having Stroman throwing 2 innings in relief about every 3 games. The appearance I saw him would be his second to last at short season as the Blue Jays promoted him to AA at the start of August. For Vancouver, he had a 3.18 ERA in 11.1 innings pitched with 15 strikeouts and 3 walks. He has made only one appearance thus far for AA New Hampshire but he did not allow a runner on base in one inning of work. I was a little surprised that the Blue Jays were starting Stroman off as a reliever and if they were more in contention for a playoff spot, I could see Stroman pitching out of the bullpen in September. I assume that they will be working him as a starter next year though.
On the night I saw Stroman, he pitched 2 solid innings giving up 0 runs, 0 walks, 1 hit, and he struck out 2. He needed only 9 pitches to get through the first inning and had a total of 27 on the night.
Stroman is extremely athletic and one of the most athletic pitchers you'll see on the mound. He stands 5'9" 185 lbs and that build is where lots of the durability concerns come from. He has an athletic and muscular build with strong muscular legs. He has a pretty smooth delivery but there is noticeable effort there. His delivery is quick and he repeats it well and he has above average arm strength and plus arm speed.
Stroman's fastball was regarded as one of the most electric in the 2012 draft. Reports had him dialing it up as high as 96-97 MPH. When I saw him though he sat 92-94 MPH. There was good arm side run on the pitch especially down in the zone. He worked it all around the plate but at times looked a little too aggressive and he lost a little control. The pitch is a definite above average pitch with the potential of being a plus pitch.
What was by far his best pitch was his plus slider. He had the best slider in the entire draft class and boy was it impressive. The pitch sat 82-84 MPH and had very hard late break with a lot of movement on the pitch. He was very confident in the pitch and was not afraid to throw it. He could locate it in the strike zone and also get it to run off the plate to get batters to chase. He threw it to both lefties and righties and was not afraid to throw it to any part of the plate. It is already a plus pitch and could potentially be a plus-plus pitch.
Stroman also featured a cutter that he's been working on that was a solid pitch. It had good hard movement and sat 86-89 MPH. It will be important for Stroman to get a better feel for the pitch and further develop it as he could play off of his fastball and slider well with this pitch. I would have liked to see more of the pitch to get a better feel for it but from what I saw, he did not have the best command of it.
He also has a change up that I only saw him throw once. From what I saw it had good fade but not much drop and was a deceptive pitch thanks to his electric arm speed. It came in at 83 MPH and was a ball to a right handed batter. Developing a good change up would be huge for Stroman's arsenal and it will be interesting to see how he progresses with this pitch.
Overall Stroman was exactly what I expected. He flashed his electric fastball and outstanding slider and I am now proud to say that I've seen a Marcus Stroman slider in person. I think the dominant performance Stroman put on in his final year at Duke answered some questions about his durability but there will still be concerns. I think thanks to his smooth delivery he will be able to make it as a starter despite his small build and especially if he further develops his cutter and change up. If those pitches come around, Stroman will have a dangerous four pitch mix. I think he could be a good number 2 or 3 starter or a shutdown closer. He has a pretty low floor and I think we could see him in the majors some time in 2013.
Filed under: On the Farm - Prospects Tagged: | Marcus Stroman, Roberto Osuna, Toronto Blue Jays, Vancouver Canadians