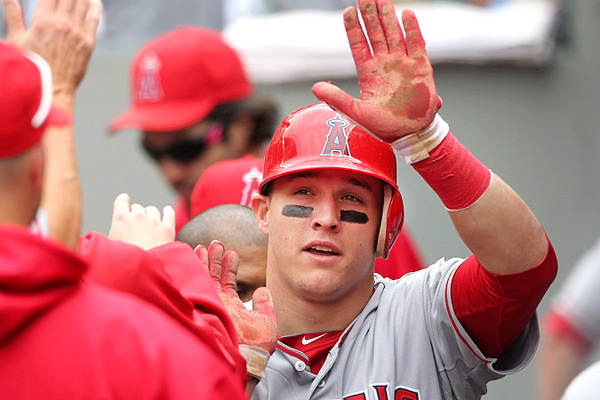 The other day I revealed my starting position players for the National League and today I give you my American League starters. The All-Star game is just days away but here are the guys who I think should be starting for the American League.

Catcher: Joe Mauer
Mauer may finally be back. He leads all AL catchers in WAR with 2.8 and has one of the best triple slashes as well. He's hitting .330/.418/.458 and his AVG and OBP rank first amongst qualified AL catcher. He has 316 PA which is only 17 less than his total for all of last year.
First Base: Paul Konerko
There is an impressive list of candidates for this spot but Konerko is arguably the best of the bunch. His 2.2 WAR is second among AL first baseman and his AVG (.332) and OBP (.408) all tank first. His .540 SLG ranks second and he has a solid 14 homeruns to go with.
Second Base: Robinson Cano
This was an easy pick for me as Cano has easily been the best second baseman and is a legit first half MVP candidate. He has a 4.2 WAR which ranks 2nd in all of the American League. He is hitting .316/.375/.585 with 20 homeruns and a .269 ISO.
Third Base: Miguel Cabrera
Detroit hasn't quite performed up to the lofty expectations coming into this year but Cabrera is still his same old self. He has 18 homeruns and a 3.2 WAR which leads all AL third baseman. He's hitting .325/.386/.563 with a .238 ISO. I also considered Adrian Beltre.
Shortstop: Asdrubal Cabrera
The Indians have been a surprise this year and Cabrera has been a large part of it. His 2.2 WAR and 11 homeruns rank second among all AL shortstops. He is hitting .290/.369/.478 which is one of the best triple slashes. He just beat out Elvis Andrus as the starting shortstop for me.
Outfield: Mike Trout
Trout may just be my first half MVP for the AL and there is no way I am leaving one of the most exciting players in all of baseball out of my lineup. His 4.7 WAR is the best in the AL and is tied for second in MLB. He has nearly 60 PA less than the guy he's tied with and who is ahead of him. He has 10 homeruns and a ridiculous 26 stolen bases. He is hitting .348/.403/.555 with a .424 wOBA.
Outfield: Josh Hamilton
Hamilton put together one of the most impressive stretches earlier this year I can remember ever witnessing. His 26 homeruns are second best in the AL and he's hitting an impressive .316/.386/.646 with a .330 ISO.
Outfield: Jose Bautista
Bautista is not quite hitting the same like in years past but the power is still all there. His 27 homeruns lead all of baseball. He is hitting .243/.356/.541 but he is heating up as he hit .271/.408/.750 in June and his hitting just as well in July so far.
Designated Hitter: David Ortiz
It seems like every year he is the starting DH and he is deserving again this year. He is hitting .302/.391/.607 on the year with 22 homeruns. He has a very impressive .305 ISO on the year and he will be a very important piece to the Red Sox if they start to turn things around in the second half.
Filed under: Digging Deep - Analysis Tagged: | All-Star Game, Asdrubal Cabrera, David Ortiz, Joe Mauer, Jose Bautista, Josh Hamilton, Miguel Cabrera, Mike Piazza, Paul Konerko, Robinson Cano