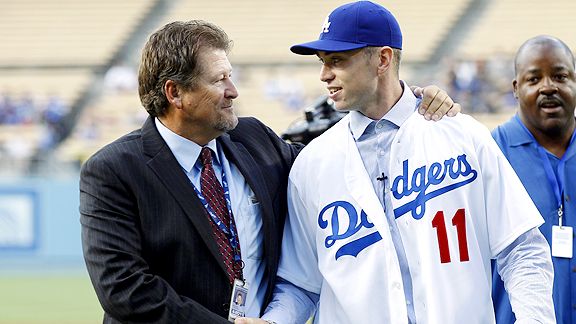 The other day I posted part one of the article as I took a look at how the top fifteen picks in 2011's MLB First Year Player draft are doing thus far. I will now take a look at how the rest of the first round is doing. Most of the guys have kicked their 2012 seasons off but some are still working in extended spring training. Enjoy.

16. Chris Reed: Reed struggled in the one start he saw in 2011 giving up 6 ER in 7IP at High A but he is now doing well at High A in 2012. He has a 3.41 ERA with a 9.9 K/9 and a 3.4 BB/9 in 29 innings pitched. He should be at AA at some point this year and spend the rest of the year there.
17. C.J. Cron: Cron signed quickly and kicked off his career on a tear in 2011 at Rookie Level ball. He hit .308/.371/.629 with 13 homeruns in 159 plate appearances. His 2011 season came to an end though as he dislocated his knee cap but luckily there was no damage to any ligaments or tendons. He has started off 2012 a little slower at High A hitting .225/.267/.388 with 3 homeruns in 86 plate appearances.  I don't think it will be long though until he starts to really tear up High A and post some monster numbers.
18. Sonny Gray: Gray signed very early, started 2011 at rookie ball and after a dominating six starts, jumped all the way up to AA where he finished the year. He started 2012 at AA and while his numbers are not as good as the 2011 ones, they are still solid. He has a 4.50 ERA with a 6.4 K/9 and a 3.4 BB/9 in 24.0 innings pitched. He could be up in the bigs at some point this year.
19. Matt Barnes: Barnes has been lights out at Class A ball this year, posting some of the best numbers of the 2011 first round picks. He has yet to give up a run or an earned run thus far and has a 14.6 K/9 in 21 innings pitched. He has been dominating hitters and has really impressed.
20. Tyler Anderson: The lefthander has yet to make his professional debut thus far and is currently in extended spring training. He has been struggling with a groin injury though which has been delaying his professional debut.
21. Tyler Beede: Beede chose not to sign and went on to pitcher for Vanderbilt. He has a 4.78 ERA in 49 innings pitched and will likely be one of the top arms available in the 2014 draft.
22. Kolten Wong: Wong got off to a real hot start in 2011 hitting .335/.401/.510 in 222 plate appearances at Class A and has picked things up right where he left off in 2012. He is hitting .329/.413/.557 with 2 homeruns and four stolen bases in only 80 plate appearances at AA. I am not ruling out the chance that he gets a look at the bigs in September but he should be the cardinals starting second baseman come 2013.
23. Alex Meyer: Meyer has struggled thus far in 2012 at Class A. He has a 6.14 ERA in 14.2 IP with an 11.7 K/9. I think that the 22 year old righty will spend most of 2012 here.
24. Taylor Guerrieri: Guerrieri is one of my favorite pitchers from the 2011 draft and I think he has a bright future ahead of him. The 19 year old has yet to make his debut though and is at extended spring training. I imagine he will move slowly through the system though and that the Rays will be patient with him.
25. Joseph Ross: Ross's numbers in 2012 are not the best looking thus far but the season is still young. He has a 6.61 ERA in 16.1 innings pitched with a 9.4 ERA at Class A. He should spend most of 2012 here.
26. Blake Swihart: Swihart was one of the top catchers available in the 2011 draft but his bat has gotten off to a slow start. He went 0-6 at rookie level in 2011 and is currently hitting .190/.278/.302 in 72 plate appearances for Class A. It shouldn't be long before he gets on track and the offensive numbers start to climb.
27. Robert Stephenson: I thought Stephenson was a great pick for the Reds here but the 19 year old has yet to make his debut and is currently working in extended spring training. I can't imagine it being too much longer until he makes his debut.
28. Sean Gilmartin: Gilmartin debuted in 2011 and pitched well, pitching primarily at Class A. He has been solid to start 2012 as he has a 3.66 ERA in 32 innings at AA. The 1.7 BB/9 is impressive but the low 4.5 K/9 is not what I expected him after posting a 12.0 K/9 in 2011. Gilmartin should move quickly and could get a look at the majors in September.
29. Joe Panik: Panik signed early and saw a lot of time at Low A in 2011 and played well hitting .341/.401/.467 with 13 stolen bases in 304 plate appearances. He has started off 2012 a little slower though hitting .229/.301/.628 in 95 plate appearances at High A.
30. Levi Michael: The 21 year old kicked off 2012 at High A and is hitting .236/.341/.306 in 85 plate appearances. The K to BB ratio looks great as he has 13 strikeouts with 12 walks.
31. Mikie Mahtook: I am a big fan of Mahtook and he has kicked off his career with a solid start at High A. He is hitting .286/.359/.338 with 3 stolen bases in 92 plate appearances. He has yet to hit a homerun, though.
32. Jake Hager: Hager signed early and debuted at rookie ball hitting .269/.305/.399 in 204 plate appearances and 4 homeruns. He started of 2012 at Class A and is hitting .200/.250/.243 in 76 plate appereances
33. Kevin Matthews: Matthews made his debut in 2011 at rookie level and finished the year at Low A. Between the two levels, he had a 2.20 ERA and a 9.4 K/9 in 28.3 innings pitched. He started of 2012 though in extended spring training and has yet to make his season debut.
Filed under: On the Farm - Prospects Tagged: | Alex Meyer, Blake Swihart, C.J. Cron, Chris Reed, Jake Hager, Joe Panik, Joseph Ross, Kevin Matthews, Kolten Wong, Levi Michael, Matt Barnes, Mikie Mahtook, MLB Draft, Prospects, Robert Stephenson, Sean Gilmartin, Sonny Gray, Taylor Guerrieri, Tyler Anderson, Tyler Beede