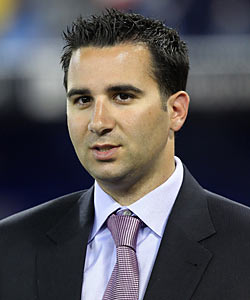 With prospect rankings being released left and right, it is no doubt that the Blue Jays have one of the best, and deepest farm systems in the league. In this year's Baseball America Prospect Handbook, the Jays organization ranked 5th overall. I would personally rank the system one or two spots higher, but regardless, the system is looking very good. It is highlighted by catcher Travis d'Arnaud who is one of the best catching prospects in all of baseball, if not the best. Following him is a pair of high ceiling outfielders in Anthony Gose and Jake Marisnick, and then a lot, and I mean a lot, of high upside starting pitchers. Prospects 3-10 on the Baseball America top 10 for the system are all pitchers.
Alex Anthopoulos has been doing a fantastic job building this system, really stressing the importance on scouting and the draft. In 2010 the Jays spent $11.6 million on the draft and then $11 million in 2011. Well this year, the Jays will look to make another big splash in the draft with a lot of picks early on.

The Blue Jays currently have two picks in the first round. The first pick is at pick 17 and the second is at pick 22 for failing to sign Tyler Beede last year. If the Blue Jays would have signed Beede last year, the system would be even scarier. I am a big fan of Beede and I could see him going as a top five pick in the draft in the future. In the first round supplement, the Blue Jays then have another 3 picks (pick numbers: 50, 57, 59).
So those are some of the Blue Jays draft picks early on but what will be interesting is how they draft with the new changes to the draft. For everything you need to know on the changes check out this article over at Baseball America. Obviously teams will not be able to throw out handfuls of over slot bonuses like in years' past if they do not want to be penalized. With 2012 as the first year with these changes, I think we will see teams try a lot of different things. Well I think the Blue Jays have the perfect GM in Alex Anthopoulos to try something creative. Like I mentioned above, Anthopoulos has stressed the draft. I think that he will be putting a lot of resources out and will really be thinking about how he can work around this system. He has always been a creative GM and I think we'll continue to see that in this June's draft.
It is still VERY early to start putting players to teams, especially outside the first five picks, but I am going to do it anyways. One guy that I think Anthopoulos would love is another high upside high schooler in RHP Lance McCullers Jr. He is a very talented young man but the verbal commitment to Florida could make teams a little wary. Since the Blue Jays drafted a lot of high upside high school guys last year, I could see them looking at College players that may be a little closer this year. One guy is RHP Jake Barrett out of ArizonaState. The Blue Jays previously drafted him in the 3rd round of the 2009 draft. He has been talked about as one of the most big league ready arms available in the 2012 draft. A third name is Marcus Stroman, a RHP out of Duke.
The Jays may also go with offense with those early picks. One guy is Stanford shortstop Kenny Diekroeger who should be able to stick at shortstop in the future. He has great athleticism and great bat speed. I am a big fan of him and I hope to catch him play when Stanford comes up to play UW in April. Another Stanford guy the Jays could look at is third baseman Stephen Piscotty.
Those guys could easily help their cause, and go earlier, or hurt their cause, and drop in the draft. Either way though, watch for the Jays to take advantage of some earlier picks and improve their system that is already one of the best in the league.
Filed under: Draft Coverage, On the Farm - Prospects Tagged: | Alex Anthopoulos, Anthony Gose, Jake Barrett, Jake Marisnick, Kenny Diekroeger, Lance McCullers Jr., Marcus Stroman, Stephen Piscotty, Toronto Blue Jays, Travis d'Arnaud, Tyler Beede