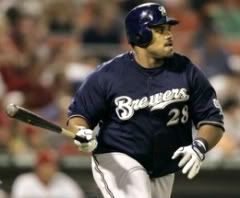 If you haven't heard by now the Detroit Tigers, who have an owner who is always willing to open his wallet if it means winning now, landed prized free agent first baseman Prince Fielder today. The terms of the deal are for nine years and $214M.
With the recent loss of Victor Martinez for the entire 2012 season, the Tigers wanted replace his production. Not only did they replace it but they exceeded his projected production but at a hefty cost.
The Tigers already have an All-Star first baseman in Miguel Cabrera and when Martinez is healthy in 2013 they will have three first basemen and only two spots to play them. This leads many to believe, and report, that Miguel Cabrera will be playing a lot of third base this season for the Tigers.
Cabrera has not played third base full-time since 2007 and has not played there at all since he appeared in 116 innings at the hot corner in 2008. But, with the Tigers having an open DH spot this season, they can afford to let Cabrera try third out on occasion.
When Justin Verlander pitches he strikes out over a quarter of the batters he faces. And when a ball is put in play, only 40% of them are on the ground. Max Scherzer struck out nearly 21% of batters he faced and only allowed just over 40% of balls in play on the ground. In games when these two pitch the Tigers should feel okay putting Cabrera at third base.
But, the only circumstance in which Cabrera should be playing third when Doug Fister or Rick Porcello is on the mound is when the Tigers are playing an interleague series in a National League park. In 2012 I could see the Tigers getting away with playing Cabrera at the hot corner during Verlander and Scherzer's starts and playing Brandon Inge there when one of their ground ball pitchers are on the mound.
If Cabrera can get enough reps in at third to simply not be the worst third baseman in the game the Tigers could maximize their offense in 2013 when Victor Martinez is healthy and back in the lineup.
Let me get back to Fielder and what he does to this Tigers team.
The Tigers are paying Fielder to be nearly a five-win player every year of his contract. Fielder has eclipsed the five win barrier in three out of his six full seasons in the Majors so for him to be worth the entire $214M over the life of his contract is most likely not going to happen. But signing Fielder will improve the offense right now.
Fielder has been intentionally walked 49 times and Cabrera 54 times over the past two seasons. The only player to be intentionally walked more than Cabrera is Adrian Gonzalez, with 55, and Albert Pujols is the only other player above Fielder, with 53. The player with the fifth most intentional walks is Matt Kemp at a very distant 28.
Being able to bat back-to-back and have the #3 hitter actually get to see pitches is a huge bonus for this team. If I am the Tigers I would actually bat Fielder #2 and Cabrera #3. This maximizes the at-bats they will see and it almost assures Austin Jackson will see more strikes hitting in front of Fielder. This is what my lineup would look like on most nights, especially when fly ball pitchers took the mound, if I were managing the Tigers:
1. Austin Jackson – CF
2. Prince Fielder – 1B
3. Miguel Cabrera – 3B
4. Alex Avila – C
5. Jhonny Peralta – SS
6. Brennan Boesch – RF
7. Delmon Young – DH
8. Ryan Raburn – LF
9. Ramon Santiago – 2B
By 2013 Young may not be on the team anymore and Martinez will be slotted in as the DH. But can Cabrera really handle third base for half of 2012 and all of 2013 and beyond?
Martinez's contract runs through 2014 and Cabrera's runs through 2015. That would mean while Fielder is manning first the Tigers would have to play Cabrera at third for at least two and a half seasons. They could trade Martinez but are they any buyers for a $13M DH coming off of a torn ACL and will be 34 in 2013 and 35 in 2015? What if they ate Martinez's entire contract? They could definitely find a trade partner but it would mean the Tigers move Cabrera to DH and would be paying roughly $105M from 2013-2014 for their first baseman and DH.
Signing Fielder is huge for the Tigers in 2012 but it could prove costly if it means having to keep Cabrera at third for an extended amount of time on top of the fact that Fielder's on-field contributions will most likely never equal the amount his contract was signed for.
But, ask most Tigers fans if they care if Fielder's on the field value equals what the Tigers will pay him over the next nine years. They don't care. They want to see a winner. I have already spoken to a friend who is a huge Tigers fan and his response: "well, it's not my money the Tigers are spending." He said that is the sentiment shared by the Tigers fans he has spoken to as well.
All the fans want is a winner on the field. If it costs the Tigers $105M to only put Fielder and Cabrera on the diamond in 2013 and 2014 at least it isn't coming directly from the wallets of the fans. This is definitely a win-now move and it helps the Tigers do just that. They will worry about the rest when the time comes.
-Jonathan C. Mitchell can be found writing about the Tampa Bay Rays at DRaysBay and the Florida Marlins at ESPN's SweetSpot site Marlins Daily. You can follow him on twitter at @FigureFilbert. Be sure to follow MLBdirt at @MLBdirt
Filed under: Digging Deep - Analysis Tagged: | Alex Avila, Detroit Tigers, Free Agents, Justin Verlander, Miguel Cabrera, Milwaukee Brewers, Prince Fielder, Victor Martinez