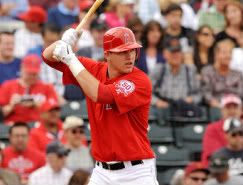 The Los Angeles Angels have built a farm system through the draft that has turned some solid upside picks into legitimate prospects.
But, there are a few things that seem to plague the Angels' system. One is a legitimate top-of-the rotation starting prospect. Another is that it seems like an injury bug went through the system, taking down any prospect that stood in its way. And the third is a lack of plate discipline outside of the top prospect and one that most will not have in their top 10.
Below are my top 16 prospects with 2012 opening day age, position, and comments on each player. Below the top 16 is a small list of additional notable names. Enjoy.
| | | |
| --- | --- | --- |
|   | Player | Comments |
| 1 | Mike Trout (20-OF) | What's left to say about Trout? He is the best all-around prospect in the game with legitimate 5-tool talents and is as close to the Majors as anyone but is blocked by Vernon Wells, Torii Hunter, and Bobby Abreu. He is going to be a star and be one for a long time. |
| 2 | Jean Segura (22-SS/2B) | Injuries plagued him in 2011, his first at SS, but he showed potential to handle to position and the hit tool and speed were already there. He could be more patient at the plate and his offense would still be above-average if he had to remain at 2B. |
| 3 | Kaleb Cowart (19-3B) | Pitch recognition and discipline will be the only things that hold Cowart back from excelling as a hitter. He has easy 20 homerun potential with potential for more, good speed, solid glove, and a strong arm. A-ball will be a solid test for this youngster who will not turn 20 until June. |
| 4 | Garrett Richards (23-RHP) | His arsenal includes a mid-90s fastball, mid-80s slider, and developing change-up that has the chance to be at least average but he lacks command and can be prone to the long ball if he cannot get control of his pitches. He could be a solid #3 starter with his solid pitcher's frame or a power reliever. |
| 5 | John Hellweg (23-RHP) | Listed at 6'9″ he has a huge frame and his mechanics are hard to repeat. The Angels moved him and his mid-90s fastball that can touch the upper-90s to the rotation last year. If he can stay as a starter he could move up the rankings and was far better as a starter than in relief, which was a shock to me. He walks way too many batters (7.6 BB/9 in his career) and if he cannot get that under control he will be in the pen for sure. |
| 6 | C.J. Cron (22-1B) | Like Segura he has battled injuries but he has plus power and crushed 13 homeruns in 143 Rookie ball at-bats. He is below-average defensively and may be a DH but the bat should easily carry him to the Majors. |
| 7 | Taylor Lindsey (20-2B) | It was his 2nd stint in Rookie ball but Lindsey won MVP honors and the hit tool is legit. He does not have plus tools anywhere but has at least average tools across the board with the exception of patience, which he could learn to use some of. |
| 8 | Nick Maronde (22-LHP) | He was a reliever at the University of Florida and is being converted to a starter and has the frame to be a good inning-eater. He has an above-average fastball, slider, and change-up and reminds me a lot of Brett Cecil. If all fails then he could be a very good reliever. Ceiling of a #3. |
| 9 | Luis Jimenez (24-3B) | Has a solid all-around game with at least average tools across the board outside of patience. He is a bit of a free swinger but makes solid contact with gap power and has decent speed. He could be a well above-average defender at 3B and solid regular in the Majors. |
| 10 | Kole Calhoun (24-OF) | Old for his level but he flat out raked and has a career 13.3% walk rate in his two pro seasons and has 20 walks in 117 winter ball plate appearances. His patience is his best tool and he excels despite not having plus tools anywhere. AA will prove whether or not he is a 4th outfielder or not going forward. I hold hope for him to be a Brian Giles lite type of player. |
| 11 | Dan Tillman (23-RHP) | He has a solid fastball/slider combo and when he keeps the ball down he can be lights out for an innings. He has the chance to be a solid reliever used in high-leverage situations. |
| 12 | Fabio Martinez Mesa (22-RHP) | He has posted crazy good strikeout numbers in his pro career but has had a hard time staying healthy and has not developed a third pitch to go with his good fastball/slider combo. His control is very erratic and if he cannot get healthy and improve his control he will be a power arm out of the pen. |
| 13 | Carlos Ramirez (24-C) | He is above-average defensively and has solid patience at the plate. He may never post a wRC+ above 100 over a three year span in the Majors but he has just enough bat and his defense is solid enough for him to be a potential regular. |
| 14 | Cam Bedrosian (20-RHP) | He missed all of 2011 with Tommy John surgery but I love his arm. He has an above-average fastball and a slider that was already flashing plus. He could be a pen arm but if he anything like his dad, Steve Bedrosian, he will have a long career. |
| 15 | Randal Grichuk (20-OF) | He is still very raw and has battled injuries (a constant theme) and has plenty of tools that would make any one hopeful. But, when healthy, he has lacked discipline at the plate and the tools have yet to show in games. |
| 16 | Jeremy Moore (24-OF) | He has solid tools across the board outside of plate discipline and is very close to the Majors. He profiles as a solid fourth outfielder with the chance to be a solid platoon partner if all goes well. |
A few more names to watch: Nick Mutz (RHP), Mike Clevinger (RHP), Ariel Pena (RHP)
-Jonathan C. Mitchell can be found writing about the Tampa Bay Rays at DRaysBay and the Florida Marlins at ESPN's SweetSpot site Marlins Daily. You can follow him on twitter at @FigureFilbert. Be sure to follow MLBdirt at @MLBdirt
Filed under: On the Farm - Prospects Tagged: | 2012 Top Prospects, Ariel Pena, C.J. Cron, Cam Bedrosian, Carlos Ramirez, Dan Tillman, Fabio Martinez Mesa, Garrett Richards, Jean Segura, Jeremy Moore, John Hellweg, Kaleb Cowart, Kole Calhoun, Los Angeles Angels, Luis Jimenez, Mike Clevinger, Mike Trout, Nick Maronde, Nick Mutz, Prospects, Randal Grichuk, Taylor Lindsey