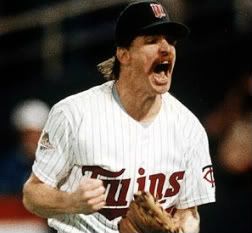 In the upper echelon of absurd there sits an article by Mr.Caputo where he explains, in an elementary school yard kind of way, why he refuses to vote for Barry Bonds, Roger Clemens, and Sammy Sosa. Take a look:
In the aftermath, Peter Gammons, one of the preeminent baseball writers of all time, talked on MLB Network about how he put Morris on the ballot the first three years he was eligible, but stopped because another baseball writer had displayed extensive statistical proof to him that Morris' 3.90 ERA was "not because he pitched to the score" but rather because he lost a lot of leads.

Right then I decided this coming year, the first time they are eligible for election to the Hall of Fame, I am not voting for Barry Bonds, Roger Clemens or Sammy Sosa.
So, because Peter Gammons, the best baseball journalist of our time and possibly of all-time, stopped voting for Jack Morris thanks to advanced statistical analysis Mr. Caputo then "decided this coming year" that he will not vote for Bonds, Clemens, or Sosa in their first year of eligibility. That is akin to a school yard kid saying "you didn't pick me and my friend for your team so I won't pick you and your friend for mine next time we have recess. Na-na-na-na-boo-boo, stick your head in doo-doo." Logic.
Mr. Caputo then goes on trying to defend Morris and his Hall of Fame credentials:
Morris won more games than any pitcher during the 1980s. Every pitcher that won the most games in a given decade deep into history before that has been inducted into the Hall. Morris won 254 games, more than many pitchers in the Hall. Morris was also a true ace in the postseason, garnering two complete-game wins for the Tigers in the 1984 World Series, and turning in perhaps the greatest clutch World Series effort of all-time – a 10-inning, 1-0 shutout of the Braves in the '91 World Series when he was with the Twins.
As Bill over at the Platoon Advantage has pointed out, Frank Viola won more games over a ten year period than Morris did but because the ten year period does not start with a "0″ and end in a "9″ it is some how irrelevant. As far as the postseason ace goes, on top of the magical game 7 Morris pitched, and it really was (not being sarcastic), Mr. Caputo refused to point out how Morris went 0-3 with a 7.43 ERA in the 1992 playoffs. Logic.
Mr. Caputo then tries to defend Morris' 3.90 career ERA:
It's true, the 3.90 ERA would be the highest of any pitcher enshrined, but Morris also pitched the second half of his career at the height of the steroids era.

…

No benefit of the doubt on ERA during the steroids era, but benefit of the doubt on suspected use?
Morris last pitched in 1994, before the "Steroid Era" and before offense was near its peak. This is also where stats like ERA+ come into play. Morris had a 105 ERA+ for his career, which compares his ERA to his era, and he was only 5% better than the league average. Again, logic.
Then, in more of a school yard rage, Mr. Caputo points the finger to another player but, oddly enough, points to the best eligible player for the Hall:
Bagwell, a first baseman, who played all of his major league career with Houston, has borderline Hall of Fame numbers, but doesn't garner enough votes – just over 50 percent this year – because he is suspected of using PED – although there is no proof or admissions. I didn't vote for Bagwell.

He didn't hit 500 career home runs. He didn't come close. He didn't play on a World Series championship team.
Jeff Bagwell is now a "borderline" Hall candidate? The numbers speak for themselves. It has been written about by me and many others. Bagwell is clearly a Hall of Famer. And, to no one's surprise, Mr. Caputo did not vote for Bagwell. The best argument, and it's a doozy, is that Bagwell did not play for a World Series winner. Wow! So, I guess that means we need to redact Ted Williams, Ron Santo, Ernie Banks and a few others from the Hall now. Logic.
Then Mr. Caputo goes on the attack and uses Peter Gammons' Boston heritage as his source:
In that same interview, Gammons, long based in Boston, said he voted for Jeff Bagwell.

…

Bagwell initially signed with the Red Sox. He is originally from Massachusetts. What I got out of it is that Gammons likes the guy – so he is a slam dunk Hall of Famer, and any whispers are about PED use is just that – whispers.
The logic is astounding. Using Gammons' place of residence as why he would vote for Bagwell. It's laughable.
The entire article, column, diary entry, whatever you call these posts now, is filled with logic that is fitting of a school yard elementary aged kid who was hurt by the fact he and his friend were not picked to play on Peter's team.
I'm not saying we should all agree on who belongs in the Hall of Fame and who does not; the debate is what makes Hall of Fame voting so much fun. But, rather than using logical reasoning and deciding to dig deeper into why Peter Gammons stopped voting for Morris, Mr. Caputo would rather adhere to illogical attacks on the legendary journalist and look like a schoolyard child doing so.
I love hearing different people's opinions on why they think certain players belong in the Hall of Fame but this article may have been the worst possible way to debate a Hall of Fame argument and makes one look classless and silly in the process.
-Jonathan C. Mitchell can be found writing about the Tampa Bay Rays at DRaysBay and the Florida Marlins at ESPN's SweetSpot site Marlins Daily. You can follow him on twitter at @FigureFilbert. Be sure to follow MLBdirt at @MLBdirt
Filed under: Hall of Fame Tagged: | Barry Bonds, Ernie Banks, Frank Viola, Hall of Fame, Jack Morris, Jeff Bagwell, Peter Gammons, Roger Clemens, Ron Santo, Sammy Sosa, Ted Williams