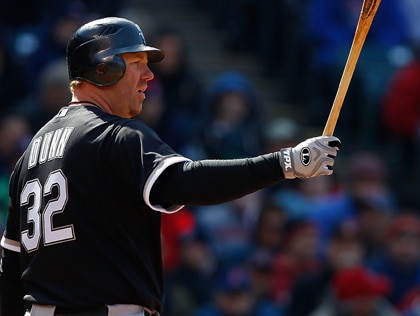 Adam Dunn was horrible in 2011, and I mean horrible. He was signed by the White Sox in hopes of providing huge pop in the middle of the lineup but he posted some of the worst offensive numbers in the league. Prior to 2011, Dunn's career triple slash line was .250/.381/.521 with a very impressive 354 homeruns and 880 RBI. He typically hit near 40 homeruns and 100 RBI. Last year though, Dunn hit .159/.292/.277 with only 11 homeruns in 496 plate appearances. He had a -2.9 WAR which ranked dead last amongst players with at least 450 plate appearances. He also had the highest K% in the league with 35.7%. Yes he was very disappointing but the hardest part to swallow for the team is that he made $12M last year and will be making $14M in 2012. He is under contract through 2014.
Despite a huge decline last year, I think that Dunn is capable of turning it around for this year and that his name will be talked about in the Come Back Player of the Year discussion. While I do not think he will go back to hitting around 40 homeruns, I think we could see him hit in the 25-30 homerun range with an average around .240.
A promising thing to take out of Dunn's 2011 campaign is that his BB% actually increased quite a bit from 2010. It rose from 11.9% to 16.1% which is just about where it has been throughout his career. Over at Beyond The Box Score, Bill Petti wrote a fantastic article on the year to year correlations of hitting statistics.  It is a great tool to show when a player has really had some drastic changes and make some predictions for the future. Using these numbers, I took a look at Dunn's stats to see if there were any big changes in his stats that are typically relatively consistent stats.
The highest year to year correlated stats are plate discipline stats as Petti's data shows. A majority of Dunn's plate discipline stats were similar from past seasons but there was one stat that saw a big change in 2011 which was his O-Contact%. O-Contact% is the percentage of pitches that a batter makes contact with outside of the zone. Dunn's O-Contact% increased 9.4%. Making more contact doesn't necessarily seem like a bad thing but due to the fact that it is on pitches outside of the zone, it could very well mean that he was making more contact when chasing pitches.
Dunn saw his BABIP drop all the way down to .240 which was one of the lowest in the league. I think a large part of that could have to do with the fact that he was making more contact on balls outside of the zone and therefore more of his balls in play came for outs. This would contribute to his huge decline in average and OBP.
Dunn also just couldn't hit the fastball this year. He was usually one of the top 5 best in the league at hitting the fastball using wFB but this year he was horrible. That was his one pitch value that saw the most drastic change in 2011 meaning a lot more of his fastballs were put in play for outs.
His season last year really could have just been a whole lot of bad luck. I mean at 32 I do think that he still has the power tool but he is going to have to really have to work hard this offseason and stay confident that he can produce again. U.S. Cellular Field, the White Sox home field, is a great hitter's park which should help him bounce back next year. Now could be a great time to trade for Dunn cheap in a fantasy keeper league or look for him as a sleeper late in fantasy drafts. It will be interesting to see how he does this year but I do believe that he will bounce back in 2012.
Filed under: Digging Deep - Analysis Tagged: | Adam Dunn, Chicago White Sox