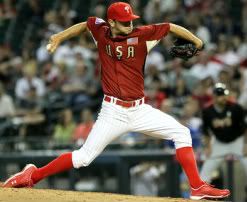 The Houston Astros are headed in a different direction. This was apparent when they acquired two of their top three prospects in trade last season via trade and filled out much of my top 16 with more players acquired in trade.
They now have Jeff Lunhow running the show and his approach to the game is much different than the old regimen and in a good way. The system is on the up-and-up and has three legitimate prospects sitting at the top and has built some depth after those three.
Below are my top 16 prospects with 2012 opening day age, position, and comments on each player. Below the top 16 is a small list of additional notable names. Enjoy.
| | | |
| --- | --- | --- |
|   | Player | Comments |
| 1 | Jarred Cosart (21-RHP) | His stuff alone ranks as a #1 starter with a fastball that sits in the mid-90s and reaches the upper-90s in short stints and he also has an above-average change-up and curveball that will both flash as plus at times. His frame leaves him room to add muscle and be a durable innings-eater as well. Also love his confidence and work ethic. But, his stats do not match the stuff due to lack of command and control and the ability to repeat his mechanics. He will start the year at 21 years of age so he has time and his cons can be coached. At worst he is a high-leverage power reliever but I see much more. |
| 2 | Jonathan Singleton (20-1B/OF) | He can flat out hit and has great discipline and patience for a kid his age. He has a ton of raw power and quick hands so hitting should not be a problem for him. I have seen some reports that say he can be above-average at 1B but I did not see it in person. He was slow moving in all directions but he did pick balls well. Even if he is below-average at 1B his bat should more than make up for that. |
| 3 | George Springer (22-OF) | 2011 1st round pick is a big kid, listed at 6'3" 205 lbs, with power, patience, and speed. Most reports say he can stay in CF and if he can he will shoot up the ladder in my rankings because he has legitimate 20/30 potential or better. He can crush a mistake but does have overall contact issues and may never hit for a decent average. I'd like to see him reach AA this year to get a better idea of what he can do against better pitching. |
| 4 | Jonathan Villar (20-SS) | There are a lot of concerns about his ability to make contact but he does have above-average defensive skills at SS, shows some patience, lots of speed, and at least average power. He reminds me a lot of Jason Bartlett. He can drive a manager crazy with all of his strikeouts and errors and is far from a sure thing but the upside is of a well above-average SS. |
| 5 | Paul Clemens (24-RHP) | I really hoped he'd add more muscle by now, listed at 6'4" 180 lbs he has room to add and help maintain durability. He has a fastball that sits low-90s and can hit 95 at times, and he adds an above-average curveball but his change-up is not quite average yet and can look like batting practice to left-handed hitters. I think by adding to his frame his command and durability will improve and he can be a viable innings-eater as at least a #4 starter with upside. If the command and change don't improve he is at least a good bullpen arm. |
| 6 | Brett Oberholtzer (22-LHP) | The 2nd player from the Michael Bourn trade to make my list does not have Clemens' upside but has a 4-pitch repertoire that all rate around average and he has at least average command and control. He has a durable frame but he has nothing that will rate as plus. He has a higher probability to be a #4 starter than Clemens but I don't see any potential for him to be anything more than that. |
| 7 | Domingo Santana (19-OF) | The 3rd player from the Hunter Pence trade to make this list, he has huge power potential but, like Villar and Springer, comes with major contact issues. And unlike Villar and Springer, he lacks patience and his plate discipline is well below-average right now. He is also destined to be in a corner OF spot and his arm may be no more than average. He also has a knack for getting on base via the HBP.  |
| 8 | Delino DeSheilds (19-2B) | Great bloodlines, gifted athlete, but still very young and raw. His swing is a complete mess but he does have plus speed and good patience, walking nearly 10% of the time as an 18 year old in A-ball. His abilities should allow him to stay at 2B despite the weak arm but 23 errors in 107 games is a bit much. I want to rank him higher on skills alone but his lack of probability and results won't allow me to. |
| 9 | Mike Foltynewicz (20-RHP) | I am not as high on him as others. I see a high-leverage reliever if he can get his breaking ball to be more consistent but he does have the frame to be a starter and I would not move him out of that role until he proves he cannot start. His fastball varies, sitting low-90s some innings then mid-90s other innings. His change-up is well below-average and his command is inconsistent at best right now. There is potential #3 starter in there but I still see pen as a more likely destination. |
| 10 | Jio Mier (21-SS) | This is a guy that I like more than most. He has the chance to be a plus defender at SS and his patience and approach at the plate are well above-average with a 13.1% walk rate in 2011. He does have decent speed but will strike out and his hit tool is currently below-average but there is a chance he develops and I hold hope for more from Mier.  |
| 11 | Telvin Nash (21-1B) | Another player with big upside due to raw power but has contact issues. His issues seem a bit more striking out in 1/3 of his plate appearances. He does have patience, walking nearly 13% of the time, but power and patience is his entire game. He may never hit for average and his defense is below-average. |
| 12 | Jack Armstrong (23-RHP) | This 3rd round pick is already 23 and has yet to make his pro debut but his 6'7" 230 lbs frame, above-average change-up, and low-to-mid-90s fastball give me reason to rank him here. The Jeff Niemann comp land here due to injury history, size, and stuff and with that as an upside he was a worthy gamble in the 3rd round. |
| 13 | Ariel Ovando (18-OF) | Signed for $2.6M and is super raw but has huge power potential and a good arm but major holes in his swing leading to, you guessed it, contact issues. He could be a climber in next year's rankings with a good showing next year an will play at age 18. |
| 14 | Adrian Houser (19-RHP) | 2011 2nd round pick has a great frame and his fastball can hit 95 but sits 90-91 in games and his breaking ball is only average right now while his change-up is far from ready. I completely see reliever here while others see potential for mid-rotation starter. Like any prospect with his size and potential he has to start but pen is likely destination. |
| 15 | Austin Wates (23-OF) | Has the speed and range to stay in CF and steal bases but lacks the instincts to stay in CF. He could be a plus defender in LF but lacks power for the position. If he can stay in CF he could be an average regular but he looks more like a good 4th OF to me. |
| 16 | Kyle Weiland (25-RHP) | Yet another traded for prospect. His fastball sits 91-95 and will keep it around the zone but lacks command and misses with all pitches up. His change-up must become more than a batting practice pitch if he wants to be more than a ROOGY. He has the potential to be a #4 inning-eater but needs more polish and time is running out. |
A few more names to watch: Nick Tropeano (RHP), Chase Davidson (1B), Ross Seaton (RHP)
-Jonathan C. Mitchell can be found writing about the Tampa Bay Rays at DRaysBay and you can follow him on twitter at @FigureFilbert. Be sure to follow MLBdirt at @MLBdirt
Filed under: On the Farm - Prospects Tagged: | 2012 Top Prospects, Adrian Houser, Ariel Ovando, Austin Wates, Brett Oberholtzer, Chase Davidson, Delino DeShields Jr., Domingo Santana, George Springer, Houston Astros, Jack Armstrong, Jarred Cosart, Jeff Lunhow, Jio Mier, Jonathan Singleton, Jonathan Villar, Kyle Weiland, Mike Foltynewicz, Nick Tropeano, Paul Clemens, Prospects, Ross Seaton, Telvin Nash