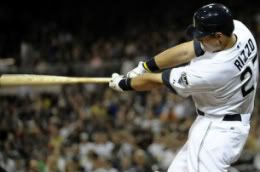 The Chicago Cubs, in a deal that looks like a clear win, have acquire first baseman Anthony Rizzo and right hander Zach Cates from the San Diego Padres in exchange for right hander Andrew Cashner and outfielder Kyung-Min Na.
Anthony Rizzo, who was blocked by the recently acquired Yonder Alonso, gets to move from a place where he had to start the year in Triple-A or play in the worst hitter's park in the game to a park that loves hitters, especially left-handed ones, and he has a legitimate shot at starting the year in the Majors.
Rizzo has an above-average glove that is getting better with time and the ability to hit for a good average with 25+ homeruns and get on-base although the plate discipline could use some improvement and he will strikeout a bit. Rizzo has the ability to be a star if he can improve the plate discipline and he has earned high marks for his work ethic and makeup. He is also still only 22 years old.
Zach Cates was a 3rd round pick in 2010 and debuted last season striking out 111 in 118 innings and only allowing four homeruns but he was a bit old for his level and he has no pitches that grade above-average. He has a low-90s fastball that he can dial up to 95 at times and an average change-up but lacks a breaking ball and his overall command needs some work. He could be an inning-eater at the back-end of a rotation but I see him more as a middle reliever at this point.
The Padres receive Andrew Cashner who is coming off of a rotator cuff injury and right now is a potential high-leverage reliever but has struggled with the long ball, something Petco will help neutralize a bit. Cashner is a big right hander that has a fastball that sits in the mid-90s and he can dial it up to 98 at times and pairs it with a slider and below-average change-up and command.
Cashner's two pitch combo can pitch right now in relief but if this deal is to make any sense for the Padres I would think they would want Cashner to start but he needs to develop that third pitch first. He could be a good #3 starter if he can get that change-up to be average and improve his command but Josh Byrnes has already stated Cashner will be a reliever in 2012 with a chance to start later in his career..
Kyung-Min Na is nothing more than a fourth outfielder with no power but he does show some patience but also strikes out a bit. He was rushed to AA last year and is only 20 years old so there is time for him to develop but I do not see the skill set there to be more than an extra which means that Cashner must excel or Rizzo flop for this deal to be a wash for the Padres.
One has to wonder where the Rays were in negotiations for Rizzo. They have a big need at first base and love young, cheap talent, and they have plenty more to offer the Padres than Cashner and Na.
This deal, at current face value, is an easy win for Theo Epstein and the Cubs and it leaves me wondering what the Padres were thinking and why they could not get more from a team like the Rays for a potential star in Rizzo.
-Jonathan C. Mitchell can be found writing about the Tampa Bay Rays at DRaysBay and you can follow him on twitter at @FigureFilbert. Be sure to follow MLBdirt at @MLBdirt
Filed under: Digging Deep - Analysis, On the Farm - Prospects Tagged: | Andrew Cashner, Anthony Rizzo, Chicago Cubs, Josh Byrnes, Kyung-Min Na, Prospects, San Diego Padres, Theo Epstein, Trades, Zach Cates