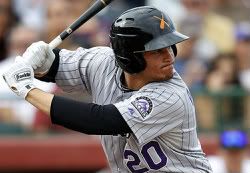 At first glance I was not sure how this farm system would come out. There were a lot of players who put up big numbers either due to age comparative to league or being in a hitter friendly environment, or both.
But the Rockies have some good upside in the middle infield and a lot of depth in the outfield mixed in with some good arms but no real projected ace pitcher in the mix at this point.
Below are my top 16 prospects with 2012 opening day age, position, and comments on each player. Below the top 16 is a small list of additional notable names. Enjoy.
| | | |
| --- | --- | --- |
|   | Player | Comments |
| 1 | Nolan Arenado (21-3B) | The hit tool is legit and he should be a well-above average offensive 3B and his defense improved vastly as his conditioning improved. He puts the ball in play a lot but also swings a lot with only 44 unintentional walks in 583 PAs. AA will be a good test for him and he has all the tools to be an All-Star. |
| 2 | Drew Pomeranz (23-LHP) | Near MLB ready with a plus curveball and a good fastball that sits low-90s but he can dial it up to 95 when at full strength. Has a great frame but really needs to improve his change-up, especially pitching in Coors, and his command is only average. Kills Lefties and has easy #2 potential but must improve command and change. |
| 3 | Chad Bettis (23-RHP) | Has a power sinker that can reach mid-90s and a slider that flashes plus but needs to improve the command and develop his change-up. Also has a curve that is more of a "get me over" pitch to keep hitters guessing. Bettis' lack of size means that he has to work harder to keep the ball down and if he can he can be a solid #2 starter. At worst he is a high-leverage reliever with a great 2-pitch mix. |
| 4 | Trevor Story (19-SS) | Thought he was a steal with the 45th pick in the draft. Has all the tools to stay at SS and has a great speed/power/patience package that makes me want to rank him #2 in this system. His swing is geared towards power and it may limit his overall hit tool but even if he hits .250 he has all the makings of a potential All-Star. I can't wait to see a full season of him. |
| 5 | Tim Wheeler (24-OF) | I am a bigger fan than most. Wheeler may not possess any plus tools but is at least average across the board. I really want to believe he can stay in CF, and maybe he can, but LF might be his best fit but he has 20/20 potential and should get on base but will come with strike outs and he struggles driving the ball against LHP. |
| 6 | Tyler Anderson (22-LHP) | 2011 1st round pick has not debuted in pro ball but should be a quick mover with four pitches that he throws for strikes. His fastball is average and his change-up is above-average and he also mixes in a curve and slider that both will be at least average with more use. He is polished and has a durable frame. Not an ace but the probability of #3 starter is very high. Could rank higher. |
| 7 | Wilin Rosario (23-C) | Solid power and very good skills behind the plate but horrible plate discipline and refuses to take a walk and couples that with a lot of strikeouts. Will likely be in AAA and if he cannot improve his plate discipline he will be forever compared to Miguel Olivo, who, oddly enough, drew walks in the minors unlike Rosario. |
| 8 | Charlie Blackmon (25-OF) | Like Wheeler, there are no plus tools but he is at least average across the board and is a legit 20/20 threat that can handle all OF positions if needed. He does not walk as much as Wheeler or have the same power potential so I rank Wheeler higher but he has all the making to be at least an average big leaguer for a long time. |
| 9 | Kyle Parker (22-OF) | Raw power and very strong arm but strikes out a lot and is still a bit raw for a college prospect due to his QB duties at Clemson. He has the tools to be a power hitting RF but could also fizzle out if he cannot produce at higher levels. |
| 10 | Josh Rutledge (23-SS/2B) | Mixed reports on if he can stay at SS and I agree due to lack of arm strength but could be an above-average regular at 2B due to his range, and speed. Not sold on his swing but he put up solid numbers and is a good base runner but needs to prove plate discipline won't be an issue at higher levels. |
| 11 | Kent Matthes (25-OF) | A bit old for his level but the numbers he put up are hard to ignore. Strikes out a lot and does not walk nearly enough and he will need to prove he can do it again in AA and AAA before he can crack my top-10. Also relegated to LF duties, hurting his value. |
| 12 | Tyler Matzek (21-LHP) | He held onto his stuff striking out 111 in 97 innings but lost all of his command and walked 96 with 19 wild pitches. His delivery is a mess and he needs to go back to what works. He has 2004-2008 Scott Kazmir ability but also could be the 2009-2011 version of Kazmir if he cannot improve the command and delivery. |
| 13 | Edwar Cabrera (24-LHP) | Great numbers in A-ball thanks to a plus change-up but has a fringe-average fastball and a developing curveball. His control is above-average but the fact he only has two pitches right now and his age compared to level keep me from putting him top 10 despite the strikeout numbers. Really want to see what he can do in AA before leaping him into top 10 status. |
| 14 | Christian Friedrich (24-LHP) | Back-to-back horrible years in AA after impressive 2009. I still hold hope he can develop into a back-end starter who can eat innings but he turns 25 in July and time is running out for him to be more than a reliever. |
| 15 | Rosell Herrera (19-SS/3B) | A move to 3B is likely and he is very raw but there is big offensive potential in his bat and had a 10% walk rate as an 18 year old in Rookie Ball. He is a prospect to keep an eye on and could easily move into my top 10.  |
| 16 | Corey Dickerson (22-OF) | Put up video game numbers with 32 homeruns in 383 at-bats but his home park had almost everything to do with that as he hit .193/.280/.363 away. Has good power but belongs in a corner OF spot and strikes out a heckuva lot. |
A few more names to watch: Joe Gardner (RHP), Rafael Ortega (OF), Cristhian Adames (SS)
-Jonathan C. Mitchell can be found writing about the Tampa Bay Rays at DRaysBay and you can follow him on twitter at @FigureFilbert. Be sure to follow MLBdirt at @MLBdirt
Filed under: On the Farm - Prospects Tagged: | 2012 Top Prospects, Chad Bettis, Charlie Blackmon, Christian Friedrich, Colorado Rockies, Corey Dickerson, Cristhian Adames, Drew Pomeranz, Edwar Cabrera, Joe Gardner, Josh Rutledge, Kent Matthes, Kyle Parker, Nolan Arenado, Prospects, Rafael Ortega, Rosell Herrera, Tim Wheeler, Trevor Story, Tyler Anderson, Tyler Matzek, Wilin Rosario