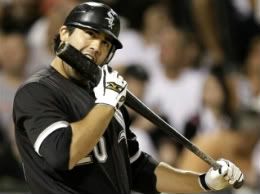 The San Diego Padres have sent minor league right hander Simon Castro and minor league left hander Pedro Hernandez to the Chicago White Sox in exchange for the often hit slugger Carlos Quentin.
Quentin only has one year of control left as he enters his final year of arbitration and is predicted to make $6.6M next year so the White Sox get some salary relief and add two arms that will be at worst decent bullpen arms, although I think Castro can be a back-end starter.
Castro has a tall frame and fits the bill of a durable innings eater if he remains a starter but the move to a hitter's park does not suit him well at all. His fastball sits low-90s but can hit 95 with a slider that flashes plus but he can lose the handle on it often. His control is very good but leaves a lot of pitches sitting flat in the zone when his command is off. He is also fly ball oriented and Petco was the best place for him to be a starter in the Majors.
Hernandez is small and was relatively unknown coming into this year. I personally have never seen video or read a report so this is what John Sickels at MinorLeagueBall.com has to say about him:
Hernandez has an 88-92 MPH fastball along with a good changeup and mediocre curve. There's nothing spectacular about him, but he throws strikes and could develop into a fifth starter or a relief option. I currently rate him as a Grade C prospect.
The Padres get the slugging Quentin to add to their crowded out field that already includes Cameron Maybin, Chris Denorfia, Will Venable, Kyle Blanks, and Mark Kotsay with Blake Tekotte ready in the minors.
Quentin has been a very bad defensive outfielder outside of 2011 where he actually put up decent numbers but I believe that is the exception and not the rule.
Quentin hit .254/.340/.499 last year with a .363 wOBA and 125 wRC+. In his four years with the White Sox he his average season was .257/.352/.505 with a .371 wOBA and 126 wRC+. That would be a nice addition to almost any lineup but, sadly for the Padres, most of his damage has been in his home ballpark which is very friendly to hitters.
Quentin has hit .264/.363/.521 in his career at home compared to .240/.327/.458 away from his hitter-friendly confines at home.
Quentin also comes with some baggage in the form of injuries and he has only reached 130 games played twice in his career with 131 being his career high in 2010.
Quentin does have on-base skills and power but Petco park could spell disaster for him both in the power department and the defensive department and hurt him as he hits the open free agent market next offseason.
-Jonathan C. Mitchell can be found writing about the Tampa Bay Rays at DRaysBay and you can follow him on twitter at @FigureFilbert. Be sure to follow MLBdirt at @MLBdirt
Filed under: Digging Deep - Analysis Tagged: | Blake Tekotte, Cameron Maybin, Carlos Quentin, Chicago White Sox, Chris Denorfia, Kyle Blanks, Mark Kotsay, Pedro Hernandez, Prospects, San Diego Padres, Simon Castro, Trades, Will Venable