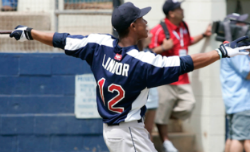 The Cleveland Indians farm system graduated top prospects like Lonnie Chisenhall and Jason Kipnis last year and traded Drew Pomeranz and Alex White to the Colorado Rockies.
This was a system that was in the top half of all farm systems but has taken a hit to upgrade the big league club. The system is full of young projects, especially at shortstop, all with upside and potential but far away from ready for Big League action.
Below are my top 16 prospects with 2012 opening day age, position, and comments on each player. Below the top 16 is a small list of additional notable names. Enjoy.
| | | |
| --- | --- | --- |
|   | Player | Comments |
| 1 | Francisco Lindor (18-SS) | The #8 overall pick in last year's draft should have no problem sticking at SS. He has good range and plenty of arm. He has a solid line-drive stroke and good discipline and knowledge of the zone. He may never hit for more than average power and his speed is just above-average but he has the makings of an All-Star SS due to his approach and great hit tool. |
| 2 | Dillon Howard (19-RHP) | He has a good frame and his fastball is already mid-90s with decent sink and he has an average curve and a change up in the works. He has #2 starter potential but needs that change up to come along or risk being a back end starter or power reliever. He has time but does turn 20 in July and has no pro innings under his belt. |
| 3 | Jake Sisco (20-RHP) | He owns a low-to-mid-90s fastball with a good frame and 4-pitch repertoire that some scouts say could all be at least average. #2 starter potential is there but I would like to see better command although reports said he has good command. I didn't see that in video, though, I really like the potential here. |
| 4 | Tony Wolters (19-SS) | He has the range to stick at SS but his arm is below-average for what I want at the position and a move to 2B may be in his future when he reaches the Majors. He shows patience at the plate and has above-average speed but has very little power and will need to hit for AVG to keep pitchers from pounding the zone against him. He earns the term "hustle" due to his all-out play and will draw comps to Ryan Theriot but has much higher potential. |
| 5 | Luigi Rodriguez (19-OF) | Raw but great athlete with room to build muscle. He has excellent speed, enough to play CF, but is very raw and needs to learn to read balls better if doesn't want to move to LF. He may never develop more than average power but shows decent patience and squares the ball up well but needs to learn to recognize breaking balls. He can be an above-average regular if he sticks in CF. |
| 6 | Ronny Rodriguez (20-SS) | Owns a plus arm and good hands and range. Should be able to stick at SS. He has developing power that could be plus at SS but lacks overall discipline at the plate and swings at everything. He needs to become more disciplined if he wants to survive the upper levels and make it to the Majors. If he can he has huge potential. |
| 7 | Felix Sterling (19-RHP) | Owns a 90-94 mph fastball with a slider that is scratching the surface of being an above-average pitch but a well below-average change up. Like the pitchers above him he has a great frame and age on his side. He can be wild and needs better control but has at least #3 potential. |
| 8 | Cord Phelps (25-2B) | He has no plus tools but is close to average across the board and can handle 2B or 3B. There is nothing too exciting here but the probability is there for at least a solid utility infielder who will have a shot at a long career. |
| 9 | Elvis Araujo (20-LHP) | Huge kid listed at 6'6" and 215 lbs is two full years removed from TJ surgery and his velocity is 90-93 and can touch mid-90s in short stints. His secondary offerings are still below-average and he lacks command of them. He has time on his side and could be a good #3 if he gets his secondary offerings and command up to average. |
| 10 | Jorge Martinez (19-SS) | Another toolsy SS who should be able to stay at the position due to his arm strength and range but he is very errant and overall undisciplined as a pro player. He lacks discipline at the plate and I am still not sold on the bat although he could add 20 lbs of muscle and develop above-average power. |
| 11 | Chun-Hsiu Chen (24-C) | Already 24 and still concerns over his receiving skills although he has thrown out 36% of runners. He has solid patience and 15+ homerun power potential but his K rate rose to over 26% after being 17.8% for his pro career prior to 2011. The tools are there to be a solid regular if he can stay behind the plate. |
| 12 | LeVon Washington (20-OF) | Another young gifted athlete in the system but his arm is below-average and I don't see him sticking in CF and he does not have the power or hit tool to project as a regular in LF yet. He has great patience and speed but also strikes out a lot. He has tons of upside but I don't see the probability in him reaching it right now. |
| 13 | Jake Lowery (21-C) | His great approach at the plate and ability to hit make me want to rank him top 10 in this system but I truly have doubts in his ability to stay behind the plate despite a decent arm. He does a lot of things right and if he can stay behind the plate he will shoot up the rankings with ease. |
| 14 | Jesus Aguilar (21-1B) | A big kid with big power but strikes out a lot and is a butcher at 1B. He lacks overall plate discipline and chases too many pitches and does not walk nearly enough for a power bat like his. He must improve his patience and discipline if he wants to be more than the right-handed part of a DH platoon. |
| 15 | Alex Lavisky (21-C) | Has a great arm and good skills behind the plate with big power potential but no sense of what to do at the plate with a horrible approach and tons of strike outs. He has the potential be a solid regular even with a low AVG but I am nearly as high on him as others and see more of a back up here if he cannot become more disciplined at the plate. |
| 16 | Chen-Chang Lee (25-RHP) | Used solely as a reliever he can be devastating against right handed hitters with a fastball that reaches mid-90s and a slider that flashes plus. He has a change/splitter to keep left handed hitters from sitting on his fastball and needs to improve his control if he wants to work high-leverage situations. He could be in Cleveland's 2012 pen. |
A few more names to watch: Scott Barnes (LHP), Bryce Stowell (RHP), Nick Hagadone (LHP)
-Jonathan C. Mitchell can be found writing about the Tampa Bay Rays at DRaysBay and you can follow him on twitter at @FigureFilbert. Be sure to follow MLBdirt at @MLBdirt
Filed under: On the Farm - Prospects Tagged: | 2012 Top Prospects, Alex Lavisky, Bryce Stowell, Chen Lee, Chun-Hsiu Chen, Cleveland Indians, Cord Phelps, Dillon Howard, Elvis Araujo, Felix Sterling, Francisco Lindor, Jake Lowery, Jake Sisco, Jorge Martinez, LeVon Washington, Luigi Rodriguez, Nick Hagadone, Prospects, Ronny Rodriguez, Scott Barnes, Tony Wolters