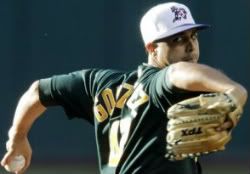 The Washington Nationals, looking to bolster their rotation, added Gio Gonzalez in exchange for a package of four legitimate prospects, three of which have made most top 10 prospects lists for the Nationals.
In Gio Gonzalez, the Nationals get a 26 year old left hander who is coming off of back-to-back seasons of 200+ innings and sub-3.30 ERAs where he has been worth 6.7 fWAR and 9.2 rWAR. Both numbers are very solid but the difference in those WAR totals are what divide some people on Gio.
Gio has a career K/9 of 8.59 thanks to one of the best curveballs in the game and a fastball that sits 91-94. He also has an average change up that helps him keep right handers from sitting on his fastball. Gio does have some issues with both control and command as he has walked 4.44 per nine innings in his career and led the American League in walks last year with 91 after walking 92 the prior year.
Some fear that the ballpark in Oakland aided in Gio's performance. He has a career 3.56 ERA at home and 4.32 on the road. Oddly, though, he has allowed more homeruns at home and has a slightly lower HR/9 on the road than at home and his career xFIP is also better on the road than at home. And his reputation as a fly ball pitcher is a bit misleading as he has a 47.5% career groundball rate.
Gio, to me, is at worst a great #3 starter who can be a good #2 on most staffs. He now joins a rotation with Stephen Strasburg and Jordan Zimmermann in what could be a devastating top three.
The A's did give up a good pitcher but got an excellent haul in return.
A.J. Cole is the top prospect in this trade. He has ace potential with a big 6-4" 180 pound frame that still leaves some room for projection. His fastball already sits 93-95 with a good slider and a fringe change up. Don't let the 4.04 ERA in the minors fool you, Cole had an excellent full-season debut with 108 strikeouts and only 24 walks in 89 innings while allowing only six homeruns. His 2.53 FIP was indicates what kind of pitcher he can be.
Some will call me nuts but Derek Norris is the next best prospect in this package. He broke his wrist in 2009 and has had back-to-back poor showings in the batting average department, hitting .235 in 2010 and .210 in 2011, but his ability to get on base (he has never had a BB% lower than 16%) and hit for power could make him a star if he can manage to hit .250 in the Majors. Even in when he hit .210 last year he still hit 20 homeruns, stole 13 bases, and had an OBP of .367 in 423 plate appearances. Those numbers were good for a 129 wRC+ in AA where he was two years younger than the average age of position players in the league. Norris is also an excellent base runner and could be a double-digit stolen base threat and has plenty of arm to stay behind the plate. I think he is a highly underrated prospect.
Brad Peacock is another great arm that can dial it up to 97 mph but sits in the 92-94 range. His lack of size concerns some scouts about his durability and I have read mixed reviews on his secondary pitches. He does lack command and has a max-effort delivery. There are some that think he has ace potential and others that think he can be an elite reliever, either way the A's got a great arm that is near Major League ready.
Tom Milone is the final piece in this haul and I do like him more than most. He is moving to the perfect ballpark for him and is Major League ready. He reminds me a lot of fellow Athletic Dallas Braden due to a fastball that is below average, sitting 86-89 but he has a solid four-pitch repertoire and pinpoint control. He does give up a good amount of fly balls but he walks very few hitters (only 16 in 148.1 AAA innings last year) and if he can keep solid command of his pitches he could be a very good starter at the back of the Oakland rotation.
The Nationals add to a rotation that could spell death to teams in a short series but the A's get the biggest prize with a solid package of four prospects who I expect to all have success at the Major League level.
-Jonathan C. Mitchell can be found writing about the Tampa Bay Rays at DRaysBay and you can follow him on twitter at @FigureFilbert. Be sure to follow MLBdirt at @MLBdirt
Filed under: Digging Deep - Analysis, On the Farm - Prospects Tagged: | A.J. Cole, Brad Peacock, Dallas Braden, Derek Norris, Gio Gonzalez, Jordan Zimmermann, Oakland A's, Prospects, Stephen Strasburg, Tom Milone, Trades, Washington Nationals