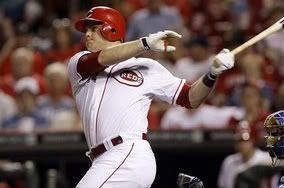 The Cincinnati Reds had a great system with a lot of top talent that was either Major League ready or very close to it. They just traded away some of their top talent in exchange for a frontline starter and it has put a slight dent in their system.
The system is stocked with infield talent unlike most systems but lacks a lot of high upside guys outside of their top prospect who will likely start the year in the Majors.
Below are my top 16 prospects with 2012 opening day age, position, and comments on each player. Below the top 16 is a small list of additional notable names. Enjoy.
| | | |
| --- | --- | --- |
|   | Player | Comments |
| 1 | Devin Mesoraco (23-C) | His bat is MLB ready and comes packed with power and average. He will not win any Gold Gloves behind the dish but he shouldn't have a problem staying there. If he can be near average defensively he will be a star. The bat is that good. |
| 2 | Robert Stephenson (19-RHP) | A mid-90s fastball and potential plus curveball with a very projectable frame. He has ace potential with those two pitches and solid makeup and work ethic but needs to develop his change up and improve his overall command. |
| 3 | Billy Hamilton (21-SS) | 80 speed proven by 103 stolen bases in 135 games. I don't see him sticking at SS, at all, and he has very little power and still strikes out a lot but he could play a solid 2B and his ability to reach base and what he can do on those bases makes him a very good prospect. |
| 4 | Daniel Corcino (21-RHP) | Moved to SP in 2010 and has impressed. Many compare him to fellow Red Johnny Cueto and he possesses a fastball that sits 90-93 and can touch 96 with a breaking ball that has potential to be a plus pitch. His change up has potential but is still a work in progress. He has good control of his pitches but struggles at times keeping the ball down (he is only 5'11). If he can keep the ball down and develop that third offering I see a good #2 here. |
| 5 | Zack Cozart (26-SS) | He has a bad approach at the plate but has good pop can square a mistake up well. His glove is well above-average and if he can be at least average at the plate then he will have a solid career as an MLB shortstop. |
| 6 | Ronald Torreyes (19-2B) | Extremely small and will draw comps to Jose Altuve but has a great hit tool and makes a ton of contact. He does not walk a lot but shows a solid approach. If he sees a pitch he likes he swings. Has solid speed and should be at least average at 2B. Will need to hit near .290+ to be effective but has the ability to do so. |
| 7 | Tony Cingrani (22-LHP) | This year's 3rd round pick sits low-90s as a starter with a developing slider and circle-change. He has good control and blew past Rookie Ball hitters with 80 Ks and 6 BB in 51.1 innings allowing 1 HR and 1.75 ERA. As a reliever he reportedly hit 97mph and if his secondary pitches don't develop as hoped his role may be in the pen. If they do develop then he has the chance to be a solid #3. If his velo can creep back up then he can be even better. |
| 8 | Henry Rodriguez (22-2B) | I see no reason why he cannot stay at 2B and while the approach could use some help at the plate he keeps on putting up good results. He could rank much higher with another solid season next year despite the mostly average skills across the board. |
| 9 | Todd Frazier (26-UT) | He has no real position but can play multiple ones and not hurt you defensively (SS is not one). He has good gap power with 15-20 HR power in his bat but strikes out a bit much and it's hard to see his approach at the plate change given his age. His ability to play multiple positions and produce some with the bat make him attractive. |
| 10 | J.C. Sulbaran (22-RHP) | He has a power fastball and Baseball America says he has the best curveball in the system but he has no third pitch and is extremely wild, regularly missing up in the zone. His future may be in the pen but as a power reliever with two solid pitches in high-leverage situations. |
| 11 | Yorman Rodriguez (19-OF) | Very raw prospect with big raw power and good speed but a long way to go. His approach at the plate is a bit sloppy and could end up in a corner OF or possibly even 1B once he fills out his frame but the potential in his bat may be the highest in the system after Mesoraco. |
| 12 | Gabriel Rosa (18-3B) | Still very raw but I really like the power/speed combo. He strikes out a ton but did walk a little more. I still hold hope, due to his athleticsim, that he can stay in CF but it's looking less likely until he can read better reads and jumps off the bat. |
| 13 | Ryan Wright (22-2B) | Hit very well but was a bit old for his level. He lacks any plus tools but I like the hit tool and approach at the plate. After watching some video I am a bit concerned that he may have to move to 3B but he has enough arm to make the transition. |
| 14 | Didi Gregorius (22-SS) | Some will disagree but I see all glove and no bat. His glove is as close to ready as any SS in this system but his bat may never play at the top level. No patience, he is quick but not a burner, and very little power. |
| 15 | Juan Perez (20-INF) | He played 3 positions in his pro debut and has a solid approach at the plate. Put up good numbers in debut but I need more data on him and he is a sleeper prospect at the moment. |
| 16 | Neftali Soto (23-1B) | He is relegated to 1B and has a ways to go the be average there and his approach at the plate is a complete mess. He does have a ton of raw power and can crush a mistake but MLB pitchers will eat him alive if he does not improve his discipline at the plate. |
A few more names to watch: Kyle Lotzkar (RHP), Juan Duran (OF), Kyle Waldrop (OF)
-Jonathan C. Mitchell can be found writing about the Tampa Bay Rays at DRaysBay and you can follow him on twitter at @FigureFilbert. Be sure to follow MLBdirt at @MLBdirt
Filed under: On the Farm - Prospects Tagged: | 2012 Top Prospects, Billy Hamilton, Cincinnati Reds, Daniel Corcino, Devin Mesoraco, Didi Gregorius, Gabriel Rosa, Henry Rodriguez, J.C. Sulbaran, Juan Duran, Juan Perez, Kyle Lotzkar, Kyle Waldrop, Neftali Soto, Prospects, Robert Stephenson, Ronald Torreyes, Ryan Wright, Todd Frazier, Tony Cingrani, Yorman Rodriguez, Zack Cozart