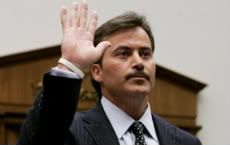 Raise your hand if you believe Rafael Palmeiro belongs in the Hall of Fame. Okay, that makes two of us.
This is not a "he was better than so-and-so and he is in" hall-of-fame post. This is a "He was historically good for his career and deserves to be in the HOF" post. I can only find two reasons people refuse to vote for Palmeiro.
One is commonly referred to: the steroid/PED use. The other states that Palmeiro was just good for a long time but never great. While this may be somewhat true (only 3 seasons of 6 rWAR or higher) it is also true for Tim Raines (also only 3 seasons of 6 rWAR or higher), everyone's go-to "get him in" candidate.
This is not a knock on Raines. I have voted for him each year that I have had a BBA vote for the Hall of Fame. The two are actually neck-and-neck in career rWAR and fWAR with Palmeiro slightly ahead in both (Palmeiro 66.0 and 74.3 to Raines 64.6 and 70.9). Take a look at the WAR Graph: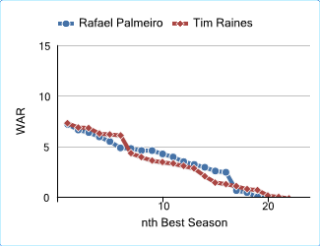 Keith Law is one that is on board with Palmeiro not being in the Hall of Fame for reasons that do not include steroid use. He stated in a chat last year "I don't care about PED usage but I think there's enough other evidence to keep [Palmeiro] out."
Please, do not misinterpret this as an attack on Law. It is not. Those that know me know that he is one of my favorite baseball people of all-time. I absolutely love the guy. He is entitled to his own opinion but I believe there's too much other evidence to not keep Palmeiro out.
| | | |
| --- | --- | --- |
|  Stat |  Total |  Rank |
|  Homeruns |  569 |  12th |
|  Hits |  3020 |  25th |
|  Times on Base |  4460 |  18th |
|  Doubles |  585 |  16th |
|  Total Bases |  5388 |  10th |
|  Walks |  1353 |  32nd |
|  fWAR |  74.3 |  61st-t |
|  rWAR |  66.0 |  79th (position players) |
|  XBH |  1192 |  6th |
|  Runs Created |  2040 |  18th |
|  SLG |  .515 |  69th |
|  WPA |  43.0 |  47th (since 1950) |
|  Assists |  1587 |  5th (as 1B s. 1950) |
|  Total Zone Runs |  51 |  14th (as 1B s. 1950) |
And if you're a fan of RBI and runs scored he ranked 16th (1835) and 31st (1663) in those categories. There are just too many important categories that he ranks among the top 25 of all-time in.
Palmeiro is one of only four player with at least 3000 hits and 500 homeruns, and while his Black Ink is below HOF means his Gray Ink, HOF Monitor, and HOF Standards are all well above HOF means. He also won 3 Gold Glove Awards, 2 Silver Slugger Awards, and is a 4-time All-Star.
To exclude Palmeiro is an injustice and the 11% vote he received last year was a shame. To each their own, but to exclude him for any reason is just ridiculous in my eyes, but who am I?
-Jonathan C. Mitchell can be found writing about the Tampa Bay Rays at DRaysBay and you can follow him on twitter at @FigureFilbert. Be sure to follow MLBdirt at @MLBdirt
Filed under: Digging Deep - Analysis, Hall of Fame Tagged: | 2012 Hall of Fame Ballot, Baltimore Orioles, Chicago Cubs, Gold Glove Award, Hall of Fame, Rafael Palmeiro, Silver Slugger Award, Texas Rangers, Tim Raines