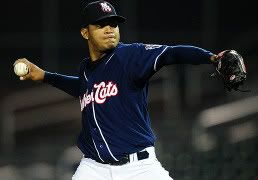 The Chicago White Sox have sent right handed reliever Sergio Santos to the Toronto Blue Jays in exchange for right handed prospect Nestor Molina. This was a trade that came out of no where and I love it for both teams but more for the White Sox.
Santos just signed a three year deal for $8.25M in September with three club options that potentially take Santos up to the 2017 season. That's six years of relatively cheap cost control for a reliever with a career 3.29 ERA, 2.97 FIP, and 11.58 K/9 in 115 innings. Santos' K/9 in 2011 was an insanely good 13.07 which was 2nd in the American League.
Santos will make $1M in 2012, 2.75M in 2013, and 3.75M in 2014 with a 750K buyout of each option. The options are for $6M in 2015, $8M in 2016, and $8.75M in 2017. In today's market where closers are getting ridiculous money this is a luxury for Alex Anthopoulos but it did come at a cost.
Nestor Molina was a relatively unknown prospect until this year when he posted eye-popping numbers in 130.1 innings between High-A and Double-A. He has 148 strikeouts to only 16 walks and a 2.21 ERA. His Double-A stint was only five starts but he had a 0.41 ERA and 0.47 FIP while striking out 33 in only 22 innings and walking just 2 hitters.
Molina keeps the ball down in the zone and his fastball sits 89-93 mph and he compliments it with a plus change/split and fringe-average curve. He commands all of pitches well and should move quickly through the system. His approach reminds me a lot of James Shields but with the build of Mariano Rivera.
Molina easily becomes the top prospect in the White Sox organization and shouldn't be more than a year away from the bigs unless he has a major setback in 2012.
The Blue Jays received a high strikeout reliever who has no problem pitching in high-leverage situations and got him at a very reasonable cost making this a solid trade for them. But the White Sox received a future top-of-the rotation starter that is not far from Major League ready.
Like I said, I like the deal for both teams but when you turn a reliever into a prospect like Molina it is hard to call the trade anything but a win.
-Jonathan C. Mitchell can be found writing about the Tampa Bay Rays at DRaysBay and you can follow him on twitter at @FigureFilbert. Be sure to follow MLBdirt at @MLBdirt
Filed under: Digging Deep - Analysis, On the Farm - Prospects Tagged: | Chicago White Sox, Nestor Molina, Prospects, Sergio Santos, Toronto Blue Jays, Trades