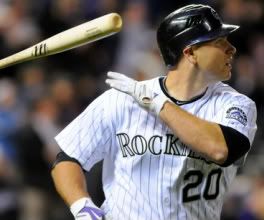 The Los Angeles Angels have acquired catcher Chris Iannetta in exchange for 21 year old starter Tyler Chatwood. This move lends hand to the philosophy of adding players with a focus on getting on-base that new GM Jerry DiPoto referred to when he was hired.
Iannetta has a career triple-slash line of .235/.357/.430 in 1733 plate appearances and had a .371 OBP in 2011. Yes, Iannetta did play most of his games in hitter-friendly Coors Field but that does not take away his ability to draw walks. His career walk rate of 13.9% In fact, his 13.9% walk rate is tied with Carlos Pena for the 12th highest among all active players with at least 1500 PAs. That skill will tranfer over to any ball park.
The Rockies get a pitcher who performed horribly in a good pitcher's ballpark but was only a 21 year old rookie. Chatwood has a good velocity on his fastball and sits 93-95 but lacks any sort of command right now. He also has an average curveball but the high altitude in Coors might drop it to below average. His change is still a work in progress and explains why left handed hitters hit him so well.
I understand what the Rockies were thinking when they dealt for Chatwood. He is a cost-controlled arm that has the upside of a #3 starter and a floor of a power reliever all while clearing salary. But, what I don't get, is how they never gave Iannetta his fair share of the playing time especially since he has not cost the team on the defensive side of the ball in his career.
This move makes it clear that DiPoto is changing the team philosophy of how they look at player value and one has to wonder if manager Mike Scioscia is on board. This move means that Jeff Mathis is either the back up catcher or off the roster in favor of Hank Conger. I prefer the latter to the former but we all know who Scioscia favors.
-Jonathan C. Mitchell can be found writing about the Tampa Bay Rays at DRaysBay and you can follow him on twitter at @FigureFilbert. Be sure to follow MLBdirt at @MLBdirt
Filed under: Digging Deep - Analysis Tagged: | Chris Iannetta, Colorado Rockies, Hank Conger, Jeff Mathis, Jerry DiPoto, Los Angeles Angels, Mike Scioscia, Trades, Tyler Chatwood