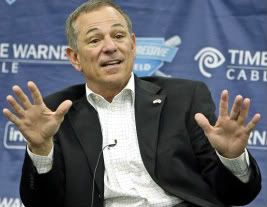 The Boston Red Sox and New York Yankees used to hate each other. There was the famous rivalry and fight between Carlton Fisk and Thurman Munson. There was the brawl we remember mostly for Pedro Martinez throwing old Don Zimmer to the ground. It was war and there were no prisoners taken. But all that has been replaced by politeness and mutual respect. Derek Jeter says nice things about the Red Sox. The Red Sox say nice things about the Yankees. David Ortiz defended Jeter during last year's contract dispute. It's all become quite vanilla.
Part of the problem (if you prefer animosity to peace) started with the general managers. Theo Epstein and Brian Cashman liked each other and respected each other. Oh sure, we still got John Henry calling the Yankees an evil empire, but Cashman and Epstein set a tone of mutual admiration. The rivalry had become chivalrous. Terry Francona was about as polite about the Yankees as you could be as a rival manager and Joe Girardi responded similarly to questions about the Red Sox.
Even the two teams' respective fans have toned it down in recent years. When you read comments from hard-core fans on major sport sites, Red Sox fans respect Jeter and Mariano Rivera and Yankee fans respect Dustin Pedroia and Adrian Gonzalez. There are exceptions, but on the whole, civility has become the norm and the rivalry is only about who will finish on top of the division. It's become impersonal.
Heck, the only manager who seems to rile the Yankees up these days is Buck S
howalter. So will Bobby Valentine change the now staid dynamic of this long-running rivalry? The Red Sox new general manager, Ben Cherington (does his dang last name have two "R's" or one? Every internet post seems to be different), seems much in the Theo Epstein mold and will not stir the pots that fry this tasty dish.
Frankly, the Boston fans' reaction to the Valentine hiring is puzzling. From all accounts, Valentine is a genius manager with a proven track record. Why is the Red Sox Nation so negative with this news? Who did they want? Are they that crushed they missed out on Dale Sveum? Come on now! Valentine brings some pizzazz to the Red Sox. But while he is a fiery sort that depends on motivation and his knowledge of the game, he has a basic politeness about him too. He personally won't antagonize his new rivals in New York.
But he did manage to wrest the back page a few times away from the mighty Yankees during his years as the Mets manager. If he brings renewed focus back to the team's players and they play with more fire and purpose, one result may be in that new intensity spilling out on the field during this still important rivalry. Wouldn't that be delicious?  That is unless you prefer chivalry and polite contests where tea is served with white gloves.
Nah. Let's leave chivalry to the English. This is America, the land of the MMA and Roller Derby. What would a political election be without mudslinging and what is baseball without fights between the Red Sox and the Yankees? So fire them up, Bobby Valentine. Let's make this fun again.
-William J. Tasker, a/k/a The Flagrant Fan, a knowledgeable and passionate baseball fan that can be followed on twitter and found writing daily at his blog
Filed under: Digging Deep - Analysis Tagged: | Adrian Gonzalez, Ben Cherington, Bobby Valentine, Boston Red Sox, Brian Cashman, Buck Showalter, Carlton Fisk, Dale Sveum, David Ortiz, Derek Jeter, Don Zimmer, Dustin Pedroia, Joe Girardi, Mariano Rivera, New York Yankees, Pedro Martinez, Terry Francona, Theo Epstein, Thurman Munson