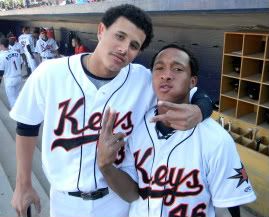 The Baltimore Orioles have one of the best 1-2-3 prospect combos in the game but it gets a bit muddled after that with low-ceiling high probability guys and high-ceiling low probability guys. It's a solid mix for a team that needs to develop from within but most of the top talent is at least a full year or more away from helping the big league club.
Below are my top 16 prospects with 2012 opening day age, position, and comments on each player. Below the top 16 is a small list of additional notable names. Enjoy.
| | | |
| --- | --- | --- |
|   | Player | Comments |
| 1 | Manny Machado (19-SS) | One of my favorite position prospects and I believe he sticks at SS. He has a plus hit tool with the chance to develop 20+ HR power and speed to steal 20+ bases. Shows a mature approach for a teenager. |
| 2 | Dylan Bundy (19-RHP) | He is one of the best high school pitchers to come out of the draft since Josh Beckett and has legit ace potential. He has a power arm and polish for a kid his age and should be a quick mover. |
| 3 | Jonathan Schoop (20-2B/3B) | I think he can stay at 2B but has the arm for 3B. Has developing power that can be above-average and he makes a lot of contact. Needs to improve patience and improve against RHP. |
| 4 | Jason Esposito (22-3B) | A glove that could play today at 3B and could play at SS. His bat will need to improve if he wants to be an MLB regular but his glove is so good he should have at least a solid career as a utility infielder. I really like Esposito as a big league regular contending for Gold Gloves annually. |
| 5 | Nick Delmonico (19-3B) | He has the 3rd highest ceiling for offensive production in this system but has a long way to go to reach it. His older brother moved to catcher and there is some thought he could as well but reports I have read don't make it seem likely since he has a lot of work to remain at 3B. If he can move to catcher he has star potential with his bat. |
| 6 | Bobby Bundy (22-RHP) | Dylan's older brother has the chance to be a back of the rotation starter that can eat innings. He has decent control and repitoire but nothing rates plus in his arsenal. |
| 7 | Parker Bridwell (20-RHP) | He has the stuff and repitoire to be a #2-3 starter but the probability is low. Has a solid fastball that can reach 95 in short stints and a 4-pitch mix. He needs polish but I love the ceiling. |
| 8 | Daniel Klein (23-RHP) | Injuries have limited him to less than 40 pro innings in two seasons but his fastball/breaking ball combo and solid control could play in a big league pen in a year. |
| 9 | L.J. Hoes (24-OF) | His move to LF hurts his value but I like the skillset. Should be a plus glove in LF and makes solid contact with good patience. Love the approach and has speed to steal 30+ bases. Could be a 4th OFer but I think he can be a regular, even in LF. |
| 10 | Eduardo Rodriguez (19-LHP) | Has the ability to move into the top 5 here. Great command for an 18yr old and has good movement on his average velocity fastball. Curveball shows potential to be plus and change can be average. I considered him as high as 7 on this list. |
| 11 | Glynn Davis (20-OF) | Undrafted but has plus-plus speed and should stick in CF. He shows good patience but may lack the bat to be a regular. Big frame offers room for muscle to build power. |
| 12 | Joe Mahoney (25-1B) | Big kid with big power potential but needs to improve his approach at the plate. Athletic for a 6'6′ 240 kid and is a solid baserunner. Old for minors. Better chance he is Quad-A than MLB regular but has the potential for latter. |
| 13 | Gabriel Lino (18-C) | Defense is already plus and showed solid approach in small sample. Scouts believe the power will develop to above-average. Has easy potential to be a top-10 prospect soon. |
| 14 | Clayton Schrader (21-RHP | Power reliever with a great fastball/slider combo. Could move fast but needs to improve control. Max effort delivery could lead to injuries but one-inning stints should limit the injury potential. |
| 15 | Ryan Adams (25-2B) | Gap power and double-digit HR power but bad approach at the plate. He is big league ready and can play multiple positions. Good bench guy. |
| 16 | Mychal Givens (21-SS/RHP) | Drafted as a SS and can play the field but cannot hit and I believe he won't, despite a decent approach. I always liked him as a pitcher and I think his career belongs on the mound. Pitched in my hometown Tampa and saw his fastball reach mid-90s on scout's guns. |
A few more names to watch:  Kyle Simon (RHP), Zachary Davies (RHP), Mike Wright (RHP)
I may catch a little flack for not having Xavier Avery anywhere on here but I simply do not like him as a prospect, at all. He has a horrible swing, horrible approach, and projects as a late-inning pinch runner or defensive outfield replacement. I could be wrong but I do not see more than that out of him.
-Jonathan C. Mitchell can be found writing about the Tampa Bay Rays at DRaysBay and you can follow him on twitter at @FigureFilbert. Be sure to follow MLBdirt at @MLBdirt
Filed under: On the Farm - Prospects Tagged: | Manny Machado, Prospects, Baltimore Orioles, Kyle Simon, Zach Davies, Mike Wright, Mychal Givens, Ryan Adams, Joe Mahoney, Clayton Schrader, Gabriel Lino, Glynn Davis, Eduardo Rodriguez, L.J. Hoes, Dan Klein, Parker Bridwell, Bobby Bundy, Nick Delmonico, Jason Esposito, Jonathan Schoop, Dylan Bundy, Xavier Avery, 2012 Top Prospects