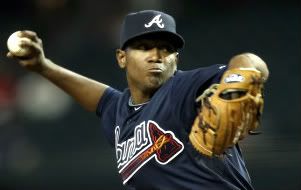 The Atlanta Braves have a very good system that has a heavy mix of near MLB ready arms, solid picks from last year's draft, and guys with tools that have yet to perform at the level expected of them but are young enough to believe in their upside. Their system is much deeper than I initially thought thanks to all of these components.
Below are my top 16 prospects with 2012 opening day age, position, and comments on each player. Below the top 16 is a small list of additional notable names. Enjoy.
| | | |
| --- | --- | --- |
|   | Player | Comments |
| 1 | Julio Teheran (21-RHP) | Was 20 last year and dominated AAA. He has true ace potential and could be in the opening day rotation. Does need to tighten his breaking ball up a bit. |
| 2 | Arodys Vizcaino (21-RHP) | Also pitched at 20 and has a breaking ball that is plus-plus. Should be top of rotation starter and not pen arm. |
| 3 | Randall Delgado (22-RHP) | Good results in MLB debut and has upside of a #2 starter. Braves have three legit young arms that could be 1-2-3 in any rotation. |
| 4 | Andrelton Simmons (22-SS) | Don't let the 28 errors scare you, the glove and range are legit. The power is slim and puts a lot of balls in play. Will need a high BABIP to succeed. Good speed but doesn't steal as well as I thought he would either. A poor man's Elvis Andrus. |
| 5 | Sean Gilmartin (21-LHP) | Gilmartin is who he is. A near ready back of the rotation starter. He won't need long to get to Atlanta. Great command and control with average stuff. |
| 6 | Tyler Pastornicky (22-SS) | A better approach than Simmons but not as good of tools across the board. Very good speed. Close to MLB ready and could be up by mid year. Should hit for a decent AVG. |
| 7 | Christian Bethancourt (20-C) | Tons of tools that have not shown in the stats yet. Solid skills behind the dish but the bat and approach are not what I thought. 2012 will be a telling year. |
| 8 | Edward Salcedo (20-3B) | This is an upside play due to his huge raw power. He has a poor approach and might move off 3B but the potential is there. Reminds me of Andy Marte in both a good and bad way. |
| 9 | Zeke Spruill (22-RHP) | Great control and still has room to add muscle to his 6'4" frame and add velocity. Keeps the ball in the park and I see upside of a #3-4 starter but with good probability.  |
| 10 | J.J. Hoover (24-RHP) | Would be higher on my list if he started more but he is death to hitters out of the pen where his stuff plays up. Should see him in the ATL pen in 2012. |
| 11 | Brandon Drury (19-3B) | Great hit tool but lack of patience is alarming. 5 unintentional walks in 278 PAs last year is bad. Wanted to rank him higher but he needs to improve the patience because higher levels will eat him alive. |
| 12 | Matt Lipka (20-SS) | An incredible athlete but will have to move to 2B or OF but has the potential to hit. Personal favorite of mine and I want to place him at 10 but the results do not warrant a top 10 spot. |
| 13 | Carlos Perez (20-LHP) | First full season was a bit of a let down with poor command but has the stuff to be a #2-3 starter but with low probability. He could be much higher with improved command or a pen arm. Too early to tell. |
| 14 | J.R. Graham (22-RHP) | 4th round pick last year has a good arm but no real breaking ball. Looks like a pen arm to me but one that can move fast if his breaking ball improves. |
| 15 | Joe Terdoslavich (23-1B) | Big power but below-average approach and poor defense hurt him. He should be in AA next year and has a chance to climb up the charts with good performance. |
| 16 | Tommy La Stella (23-2B) | 8th round pick in 2011 had a great pro debut hitting .328/.401/.543 in 270 PAs. Good approach, good pop, but not a stellar athlete. If he can prove to stay at 2B he could be a great steal. |
A few more names to watch: Kyle Kubitza (3B), Adam Milligan (OF), Nick Ahmed (SS), and Mycal Jones (OF).
-Jonathan C. Mitchell can be found writing about the Tampa Bay Rays at DRaysBay and you can follow him on twitter at @FigureFilbert. Be sure to follow MLBdirt at @MLBdirt
Filed under: On the Farm - Prospects Tagged: | 2012 Top Prospects, Adam Milligan, Andrelton Simmons, Arodys Vizcaino, Atlanta Braves, Brandon Drury, Carlos Perez, Christian Bethancourt, Edward Salcedo, J.J. Hoover, J.R. Graham, Joe Terdoslavich, Julio Teheran, Kyle Kubitza, Matt Lipka, Mycal Jones, Nick Ahmed, Prospects, Randall Delgado, Sean Gilmartin, Tommy La Stella, Tyler Pastornicky, Zeke Spruill