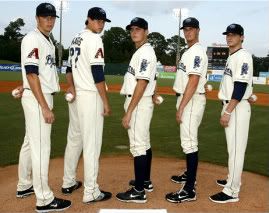 (Photo by Chip English/Mobile BayBears)
I am kicking off my top prospects lists with one of the deepest systems in all of baseball, the Arizona Diamondbacks. They have more pitching depth than any system in the game I have seven of their top eight prospects as pitchers.
Why top 16? Well, because I can choose which ever number I want and it is one of my favorite numbers thanks to my favorite athlete of all-time: Joe Montana. And the number is arbitrary enough to get people asking "why 16 prospects?" Other than those, there is no real reason as to why I chose 16.
Below are my top 16 prospects with 2012 opening day age and position and comments on each player. Below the top 16 is a small list of notable names. Enjoy.
| | | |
| --- | --- | --- |
|   |  Player |  Comments |
| 1 |  Trevor Bauer (21-RHP) | I liked Bauer more than Cole in the draft and still do. He is a legit ace and has the stuff, repertoire, and control to back it. He did wear down at the end of 2011 but was worked hard all year. |
| 2 |  Jarrod Parker (23-RHP) | Parker is another that I view as a legit ace and a no. 3 guy at worst. Command is last to come back from TJ surgery but 8 of his last 11 starts he walked one or less and his stuff is already back. |
| 3 |  Tyler Skaggs (20-LHP) | Yet, another potential ace but more likely a no. 2 guy due to lack of plus fastball. Since coming to ARI he has not posted a K/9 below 11.2 and BB/9 worse than 3.0. |
| 4 |  Archie Bradley (19-RHP) | Drafted 7th overall last year out of high school and was given $5M bonus. He has ace potential with mid-90s fastball and a curve that flashes plus. Needs to work on the change. |
| 5 |  Matt Davidson (21-3B) | Love the power potential and he shows it to all fields. May struggle to hit for a high average but could be a 25-30 HR thirdbaseman if he can improve his defensive skills a bit. |
| 6 |  Andrew Chafin (21-LHP) | Loved him on college. Has the plus fastball-slider combo to be a #2 starter but really needs a third pitch and only started one year in college after TJ surgery in 2010. |
| 7 |  Patrick Corbin (22-LHP) | He doesn't walks many and has #3 starter potential but must improve against right-handed hitters since his fastball is average. |
| 8 |  David Holmberg (20-LHP) | Another lefty in this deep system. Reached High-A and results weren't great but has similar stuff to Corbin and about the same ceiling. |
| 9 |  Bobby Borchering (21-1B) | Has as much power potential as Davidson but makes less contact and will have to move to 1B permanently. |
| 10 |  A.J. Pollock (24-OF) | If he can stay in CF he can be a solid player. Can hit for AVG and steal bases but lacks power and patience. He will be a very solid 4th outfielder at worst. |
| 11 |  Anthony Meo (22-RHP) | Thought he was a steal in the 2nd round but lacks command and control. Could end up a reliever but if he starts he could be a lot higher. |
| 12 |  Chris Owings (20-SS) | After a solid 2010 as an 18yr old in A-ball he struggled in High-A and showed no discipline at the plate and had 32 errors at short. He has upside but needs to improve vastly. |
| 13 |  Adam Eaton (23-OF) | Love the approach and the hustle. Small but I don't care. Has produced and should be a solid 4th outfielder at worst. I could swap him and Pollock in the rankings and not flinch. |
| 14 |  Collin Cowgill (25-OF) | A lot like Eaton and Pollock but more likely to be a 4th outfielder and oldest of the trio. |
| 15 |  Kyle Winkler (21-RHP) | A 10th round steal with a fastball that reaches mid-90s. He needs to bounce back from late elbow injury in college but I like the arm a lot. |
| 16 |  Marc Krauss (24-OF) | Had a bit of a down year but has a solid approach and decent power. Good platoon bat at worst. Not sold on his defense. |
A few more names to watch: Ryan Wheeler (3B), Wade Miley (LHP), David Nick (2B), Rossmel Perez (C).
-Jonathan C. Mitchell can be found writing about the Tampa Bay Rays at DRaysBay and you can follow him on twitter at @FigureFilbert. Be sure to follow MLBdirt at @MLBdirt
Filed under: On the Farm - Prospects Tagged: | 2012 Top Prospects, A.J. Pollock, Adam Eaton, Andrew Chafin, Anthony Meo, Archie Bradley, Arizona Diamondbacks, Bobby Borchering, Chris Owings, Collin Cowgill, David Holmberg, David Nick, Jarrod Parker, Kyle Winkler, Marc Krauss, Matt Davidson, Patrick Corbin, Prospects, Rossmel Perez, Ryan Wheeler, Trevor Bauer, Tyler Skaggs, Wade Miley