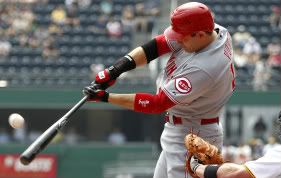 This is all Jonathan Mitchell's fault. His fabulous post on the nastiest pitches in baseball has now spawned not just one post from the Fan, but now two. The exercise in question is looking at Fangraphs' data for pitch value as a perimeter for judging the best pitchers overall for 2011 and for the past three years. Today, we're going to look at the same pitch values, but this time from a batting perspective. The idea is this: If you add up the pitch value scores for each batter with a minimum number of plate appearances and then sort the total, it should give you a list of the best pure hitters in baseball. It's a different approach than WAR or wOBA or even OPS+ and it may not mean anything. But it's fun, so anything fun is worth doing, right?
Here's how these numbers were accumulated: This author went to Fangraphs and then to their Leaders link. Once at the leaders page, the Pitch Value tab was clicked. On that page, using the wonderful tools available to us, two criteria were plugged in. In the first one, we stayed with 2011 and made 400  the minimum plate appearances. Then Fangraphs' generous Export Data link was clicked which provided a spreadsheet for our use here. A new set of criteria was then added for the past three years (2009 – 2011) with a minimum of 1000 plate appearances. And that data was exported as well.
Once the spreadsheets were on this author's laptop, in a new column a sum function was used to get a total of all the pitch types to give us a total value above average. What these numbers mean is a calculation by Fangraphs of how many runs above average each hitter was against different pitch types. There are some weird numbers in there. For example, Maicir Izturis was the second best in baseball in 2011 against the slider but couldn't hit just about anything else. Alfonso Soriano was among the top in hitting a fastball but gave up all those runs against the slider. Our top hitters in general hit everything well or hit at least a few pitches well enough to compile big numbers.
Without further ado, here are the top ten pure hitters in baseball for 2011 for combined runs above average:
Comments: Bautista was the best in baseball against the slider. Joey Votto mashes fastballs better than anyone else. The list underscores the brilliant years by Berkman and Napoli. It also somewhat validates Braun's MVP Award.
The top ten pure hitters since 2009
Joey Votto – 151.3
Miguel Cabrera – 147.9
Ryan Braun – 139.9
Prince Fielder – 135.2
Albert Pujols – 131.5
Jose Bautista – 122
Adrian Gonzalez – 105.6
Kevin Youkilis – 97.9
Matt Holliday – 96.4
Paul Konerko – 96
Comments: Bautista is damaged some because almost all of his value is from the last two years. Just missing our list at eleventh place was Robinson Cano. Were you as surprised as this author was that Youkilis and Konerko made the top ten?
Just for fun, the worst five hitters in baseball in the past three years: Yuniesky Betancourt (-52.6), Orlando Cabrera (-48.3), Alex Gonzalez (-47.5), Ronny Cedeno (-43.7), Ivan Rodriguez (-43.4) and Jose Lopez (-41.7). Alex Rios came in with the worst score for 2011. An observation adding this list as a comparison is that total pitch value scores is affected greatly by plate discipline or at least it seems that way.
-William J. Tasker, a/k/a The Flagrant Fan, a knowledgeable and passionate baseball fan that can be followed on twitter and found writing daily at his blog
Filed under: Digging Deep - Analysis Tagged: | Adrian Gonzalez, Albert Pujols, Jacoby Ellsbury, Joey Votto, Jose Bautista, Kevin Youkilis, Lance Berkman, Matt Holliday, Matt Kemp, Miguel Cabrera, Mike Napoli, Paul Konerko, Prince Fielder, Ryan Braun