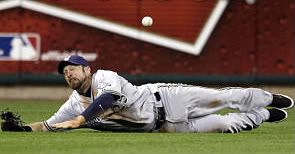 The San Diego Padres have appeared to sign 1B/COF Mark Kotsay to a one year deal worth $1.25M and this is far and away one of the worst contracts that will be signed this offseason.
Now, $1.25M is not a lot of money in major league baseball but it is a lot to spend on a soon-to-be 36 year old who cannot even adequately play a corner out field spot and has no power and no speed. And, if he even could play a corner spot at a league-average defensive rate he is still a well below league-average hitter and a laughable one for a corner spot, which demands more on the offensive side of the ball.
Kotsay has not had a season where he hit at least league-average since 2004 and has only hit above league-average four times in his 14 year major league career.
Since Kotsay's age 30 season he has hit 18% below league-average (82 wRC+) with a triple-slash of .262/.320/.377 and wOBA of .304 with a whopping 29 homeruns in 2041 plate appearances. As you can see, he does not hit for average, get on base, or hit for power. And he is relegated to a corner position.
Over that same period of time Kotsay had a mere 16 stolen bases in 29 attempts and was a -7.7 base runner (Bsr). That Bsr includes the fact that he is a -5.0 base runner over the past three seasons. It would be bad enough if he added no value on the bases but he actually hurts you on the bases.
His outfield defense over this same time period is an abysmal -30 UZR and it is even worse at -36.8 if I take it one year further. The only positive is that he has a +0.5 UZR in 784 innings at first base but the offensive output that is needed at this position is one that Kotsay has never been able to reach.
Kotsay has been worth -1.8 fWAR and -3.0 rWAR since his age 30 season. This is one real case where you really would be better off with a replacement level player who makes league minimum but the Padres feel the need to bring a below replacement level player in and pay him three times the amount of a league minimum replacement level player. Makes sense?
To make matters worse, the Padres are very much set at first base and pretty set at the corner out field spots where Kotsay has no business being anyway. Anthony Rizzo is a top prospect that should be playing first everyday but even if they feel he may not be ready there is another guy named Kyle Blanks who deserves a shot at first.
If Rizzo is at first then Blanks will be in left. Both should be playing daily in 2012. That leaves right as the only possible spot for Kotsay to get playing time but the Padres have a plethora of better candidates in Will Venable, Chris Denorfia, Aaron Cunningham, and Blake Tekotte. Kotsay should not be taking any at-bats away from these players nor should he be taking a guaranteed roster spot from them.
The Padres already had Jesus Guzman as the perfect guy for Kotsay's role. He makes league minimum and can play first, left, and right better than Kotsay. Not to mention that Guzman hit 44% better than league-average (144 wRC+) last year, albeit in limited duty, but the chance for upside exists in Guzman and not in Kotsay.
If the Padres know this but believe his value is in teaching the young guys "a thing or two" then they should have signed him as a coach or instructor because he absolutely cannot teach any single skill by displaying it on the field.
To sum it up, Kotsay is a horrible defensive outfielder that hits well below league average with below average base running skills and has been the worst player with at least 2000 plate appearances the past six seasons and the Padres just gave him a guaranteed spot on the 25-man roster and $1.25M. Make sense?
-Jonathan C. Mitchell can be found writing about the Tampa Bay Rays at DRaysBay and you can follow him on twitter at @FigureFilbert and follow MLBdirt at @MLBdirt
Filed under: Digging Deep - Analysis Tagged: | Aaron Cunningham, Anthony Rizzo, Blake Tekotte, Chris Denorfia, Free Agents, Jesus Guzman, Kyle Blanks, Mark Kotsay, San Diego Padres, Will Venable