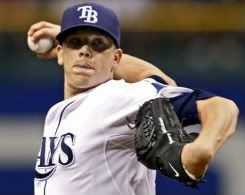 The BBWAA announced their Jackie Robinson award winners today and they named Atlanta Braves reliever Craig Kimbrel the National League rookie of the year and Tampa Bay Rays starting pitcher Jeremy Hellickson the American League rookie of the year.
We will find little-to-no griping or complaining about Kimbrel's name being announced for the Jackie Robinson award but we will hear some griping and complaining about Hellickson's name being announced, and it will mostly be from my peers and fellow stat heads like me.
Colleague and a personal favorite writer of mine, William Tasker, wrote an article today about Hellickson and how confusing his stats were this year. It's a great article and I urge you to read it. Hellickson had a statistical season that is very hard to discern and William does a great job outlining that season. But, while I cannot agree more with the confusion, we do disagree about Hellickson deserving this award.
The main problem some of us will have is with Hellickson's 2.95 ERA. Yes, that will be our problem. When someone has a low ERA we feel we must justify it and FIP is the one doing the justifying. We will hear that ERA is an outdated stat or that it did not coincide with Hellickson's much higher 4.44 FIP. So, his ERA has to be made into jokes because a high FIP needs no justification. His low opponent's average was luck. Period. His low BABIP was also luck. Period.
We will hear jokes like "ERA continues to beat up on big brother Wins" or "At least Mark Trumbo and his .291 OBP didn't win. That would have been almost as bad as Hellickson and his 4.44 FIP winning." We will hear that his .223 BABIP, 82% left on-base percentage, and .221 opponents average are not sustainable.
Here's the thing: awards are given, and should be given, based on performance outcome and not what we think the player's performance should have been. To compare ERA to wins and FIP to OBP is a joke.
Yes, FIP is more than simply a predictive stat and should be taken into consideration, but to say that FIP is the sole indication of how a pitcher performed is like saying a hitter's low BABIP should be brought up to his norm and then adjust his rates from there so we can see how he truly performed. Sorry, that is not how it works. ERA and FIP both matter, even if the party on either side of the fence tell you one or the other does not.
FIP is like the new kid on the block and to help increase its popularity it has to pick on or beat up ERA, the kid that is already on the block. While adding FIP to the block does, in fact, make the neighborhood much better it is only when we use it in conjunction with the existing stats that it can grow in popularity. And one of those stats we can use it with is ERA.
Please, do not get me wrong. ERA is not a perfect stat but it should not be kicked to the curb like Wins or saves should. I absolutely love stats like FIP and xFIP to not only indicate how much a pitcher may have depended on a fielding unit but I like them as performance outcome and predicting performance stats. They are great stats that I quote regularly. But to disregard ERA or stats based from it, like ERA- and ERA+, is not taking the full picture or story into context. FIP and ERA are both part of the story.
Was there another candidate out there that should have won over Hellickson? Michael Pineda comes to mind as one that was just as deserving but it does not mean Hellickson did not deserve to win.
Taking each of their seasons into consideration I would not mind if either won. Both are deserving. But there will be a lot of us who will throw Hellickson's 189 innings of 2.95 ERA ball out the window simply because his FIP was 4.44. And there will be some of us that will put Pineda's name at the top because his FIP was 3.42 over 171 innings and throw out the fact that his ERA was 80 points higher than Hellickson's.
Both stats count, especially when we are giving awards that are based on an entire season's outcome. And, yes, it is a shame that Pineda only placed 5th on the ballot. That only fuels the urge for some of us to kick ERA even more in the name of FIP. Pineda and Hellickson were 1a and 1b in my opinion. Take a look at my BBA ballot if you don't believe me. But because Pineda took a hit in the ballot does not mean we should take it out on Hellickson.
Sure, Hellickson may have over performed in 2011 based on his peripherals and we will possibly see a regression in his ERA and some other numbers next season. But awards are given based on performance outcome and we must not rob Hellickson of the outcome of his 2011 performance, which was deserving of the American League Jackie Robinson award.
-Jonathan C. Mitchell can be found writing about the Tampa Bay Rays at DRaysBay and you can follow him on twitter at @FigureFilbert and follow MLBdirt at @MLBdirt
Filed under: Digging Deep - Analysis Tagged: | Atlanta Braves, BBWAA, Craig Kimbrel, Jackie Robinson Award, Jeremy Hellickson, Mark Trumbo, Michael Pineda, Rookie of the Year, Tampa Bay Rays