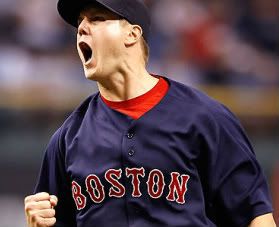 In case you haven't heard by now the Philadelphia Philles signed free agent reliever Jonathan Papelbon to a four year deal worth $50M with a vesting option at $10M for a fifth year. The Phillies should have learned from the three year $36M deal they gave Brad Lidge a few years ago.
The Phillies know first hand that long term deals for relivers, especially invovling big money, usually do not turn out great. It's not even the fact that injuries can happen and render the contract a disaster but the fact that the pitcher only pitches in 60-70 innings a year, limiting the amount of true value they can add to a team.
On top of what I have already said, most managers do not use thier relief aces in the situations that will prove their value. Most managers throw their relief aces, or closers as they call them, into an inning relegated role instead of using them in the highest leveraged spot. This, again, limits the amount of true value they can add to a team.
Do not get me wrong, I am not saying Papelbon is a bad pitcher. In fact, he just had an incredible season and has had an incredible career for a reliever. What I am saying is that general managers go a little crazy over the save stat and the term "proven closer" and throw money at a need that can be filled much easier.
For instance, the Tampa Bay Rays have made the playoffs three out of the past four seasons and have had a different closer lead their team in saves. In fact, they have had a different save leader in eight straight seasons. David Schoenfield at ESPN recently looked at the top 10 largest multi year deals given to relievers and, well, they usually do not end well.
The only time it ends well is when the reliever's name is Mariano Rivera and the team can get value on the field and a chunk of the money back via branding and marketing a team legend and icon.
The Red Sox come out of this looking good. They do not have to pay Papelbon big money and they get the Phillies' 1st round pick in next year's draft. They may very well spend money on a closer but it won't be $50M.
The moral of the story is simple: Do not give multi years and big money to free agent relievers. It is rarely, if not ever, worth it.
-Jonathan C. Mitchell can be found writing about the Tampa Bay Rays at DRaysBay and you can follow him on twitter at @FigureFilbert and follow MLBdirt at @MLBdirt
Filed under: Digging Deep - Analysis Tagged: | Boston Red Sox, Brad Lidge, Free Agents, Jonathan Papelbon, Mariano Rivera, Philadelphia Phillies, Ryan Madson