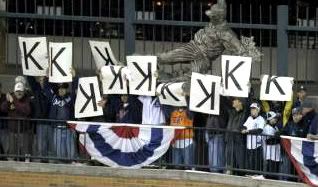 Jonathan Mitchell's posts here a few days ago on the worst pitches in baseball and the best pitches of 2011 has to be this writer's favorites so far this post season. The fact he pointed out that the single worst pitch in baseball for 2011 was A.J. Burnett's fastball was shocking. How many times have we heard that A.J. Burnett has great stuff? A thousand or more, right? But obviously, that statement is all wet. Mitchell's post and Burnett's "stuff" made this writer wonder just what "good stuff" means. As such, a lot of time was spent culling the Internet for people's definitions. Dave Cameron's seminal article linked here was helpful. As were others. The overwhelming conclusion from the research is that stuff has nothing to do with the radar gun.
For example, one article (which the writer can't seem to relocate) mentioned (it was written two years ago) that over the past several years, one of the most dominant pitches in baseball has been Matt Cain's fastball. Matt Cain? Nobody would confuse Matt Cain as a power pitcher. He doesn't even have superb strikeout rates. So how can that be? It seems that great stuff is more about what pitching is all about and that is causing the batter to make an out. But how do you define it?
Well this is where Mitchell's piece was so instructive. A great pitch (and a lousy one) can now be measured thanks to Fangraphs and other sites. The valuation of pitches means that we can now measure a pitch's effectiveness based on the measurement of how many runs that pitch is above or below average. From such data, we can learn, for example, that Ian Kennedy had the most effective fastball in 2011 based on his wFB score. Mitchell's post gives you all the skinny on baseball's best pitches in baseball in 2011, so check it out.
What this writer thought he would do is to piggyback on top of Mitchell's idea and see if it's possible to measure a pitcher's overall "stuff." If we could total up all the pitcher's pitches and their scores (wFB +wSL + etc), wouldn't that give us an idea of a pitcher's stuff for the past season? Perhaps. Feel free to poke holes in that idea. We're just having a conversation here. Certainly, there are dozens of stats we can use in the valuation of a pitcher but the funny thing is that the "stuff" findings seem to mirror the WAR results and gives us a clue as to why these pitchers are so effective (or not).
And so that's what we did. After downloading Fangraphs' data (isn't it nice these sites let us do that?) and doing some trusty spreadsheet work, the following is the top ten pitchers in "stuff" for 2011 along with the ten worst. After that list, the same sort of list will be presented for the past three years.
The ten best "stuff" scores for 2011
Justin Verlander – 51.6 runs above average
Clayton Kershaw – 47.6
Roy Halladay – 43.6
Jered Weaver – 39.8
Cliff Lee – 39
Cole Hamels – 36.6
James Shields – 33.7
Josh Beckett – 30.7
Matt Cain – 29.1
Doug Fister – 28.7
Thoughts: The overwhelming truth to this list is that these pitchers have positive scores on all their pitches. If we consider a guy like Ian Kennedy who we already said had the most effective fastball in 2011, he also scored positively on his curve. But it was his insistence on throwing other pitches that were less effective that kept him off of the top ten list.
The ten worst stuff scores for 2011
John Lackey: -31.4   why is that not surprising?
Bronson Arroyo: -31.2
Brian Matusz: -30.7
Nick Blackburn: -30.5
Brad Penny: -27.8
Jo-Jo Reyes: -27.2
A.J. Burnett: -26.9
Esmil Rogers: -24.4
Tim Wakefield: -22.5
Rodrigo Lopez: -22.1
Thoughts: The only surprise on this list was Esmil Rogers. Tim Wakefield rarely throws anything but a knuckleball. His one pitch scored a -27.8. It's time to retire, sir.
The ten best stuff scores for the past three seasons:
Clayton Kershaw: 110.5  This was a surprise
Justin Verlander: 106.8
Roy Halladay: 102.4
Felix Hernandez: 99.9
Cliff Lee: 86
Tim Lincecum: 85.2
C.C. Sabathia: 82.4
Matt Cain: 78.6
Jered Weaver: 77.4
Josh Johnson: 77
The ten worst stuff scores for the last three years
Rodrigo Lopez: -58.8  And yet he keeps getting a job
Nick Blackburn: -54.4
Zach Duke: -51.8
Dave Bush: -50.6
Jeff Suppon: -47.3
A.J. Burnett: -46.3
Manny Parra: -45.7
Chris Volsted: -44.8
Brad Bergesen: -44.3
Kyle Davies: -42.8
-William J. Tasker, a/k/a The Flagrant Fan, a knowledgeable and passionate baseball fan that can be followed on twitter and found writing daily at his blog
Filed under: Digging Deep - Analysis Tagged: | Clayton Kershaw, Cliff Lee, Cole Hamels, Doug Fister, James Shields, Jered Weaver, Josh Beckett, Justin Verlander, Matt Cain, Roy Halladay