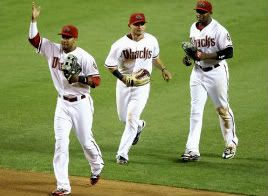 The Arizona Diamondbacks have a legitimate shot at winning four of the Gold Gloves this year after a year of dominating defense.
Like the American League ballot I posted, my National League ballot will have a name on it that will make you question the metrics and you will see that the National League West dominates my ballot by taking six of the eight awards I chose to vote on.
Like the American League, I chose not to place a vote on a pitcher due to lack of metrics available and the fact I didn't get a chance to see any enough to give a fair opinion. With that said, here is my ballot of those of whom I would have voted to win National League Gold Glove awards if, you know, I was important enough to vote.
National League
Catcher: Miguel Montero (ARI) – Montero led all catchers in Total Zone Runs and threw out 40% of attempted runners, tops among qualified catchers. He finished second in UZR behind unqualified Chris Stewart who was phenomenal behind the dish but didn't log enough time for me to consider him. Ivan Rodriguez and Nick Hundley were also great but did not play enough. Montero deserves this award.
First Base: Todd Helton (COL) – A tough call with either of Joey Votto, Albert Pujols, or Gaby Sanchez deserving. Helton placed first in Total Zone Runs and RZR while placing fourth in UZR. I honestly would not gripe about any of the above four winning this award.
Second Base: Omar Infante (FLA) – Another close call and I would not gripe if Brandon Phillips, Danny Espinosa, or Chase Utley (wish he played more) were chosen. Infante led in Total Zone Runs by doubling the second place Utley and he finished third in UZR. Espinosa and Neil Walker were the only players to make more plays out of zone than Infante.
Third Base: Pablo Sandoval (SF) – Like Nick Swisher in the AL, I find it odd to be writing Sandoval's name in for this award but the metrics loved him as he led in Total Zone Runs, RZR, plays out of the zone, and Plus/Minus. He also finished 2nd in UZR. Placido Polanco comes in a very close second.
Shortstop: Troy Tulowitzki (COL) – Another close call with Clint Barmes having just as good a case as Tulowitzki but way fewer chances. Tulo finished second Total Zone Runs, UZR, and first in fielding percentage. He is a guy that I have seen a lot of and the scouts and metrics seem to always agree on him.
Left Field: Gerardo Parra (ARI) – He led in UZR, Defensive Runs Saved, assists, and out of zone plays (by a mile). He also finished second in Total Zone Runs and Plus/Minus. This was an easy choice.
Center Field: Chris Young (ARI) – Another Arizona Diamondback leading the way. He led in UZR, Total Zone Runs, and out of zone plays. Carlos Gomez only logged 569 innings and if he had another 500 may have taken this award away. Cameron Maybin was another choice I wouldn't argue with much.
Right Field: Jason Heyward (ATL) – Justin Upton almost made this a perfect win for Arizona but Total Zone Runs hated him (-8) and Heyward led in UZR, Defensive Runs Saved, and Plus/Minus. He also finished third in Total Zone Runs. Mike Stanton would also be a solid choice.
-Jonathan C. Mitchell can be found writing about the Tampa Bay Rays at DRaysBay and you can follow him on twitter at @FigureFilbert and follow MLBdirt at @MLBdirt
Filed under: Digging Deep - Analysis Tagged: | Arizona Diamondbacks, Atlanta Braves, Chris Young, Colorado Rockies, Florida Marlins, Gerardo Parra, Gold Glove Award, Jason Heyward, Omar Infante, Pablo Sandoval, San Francisco Giants, Todd Helton, Troy Tulowitzki