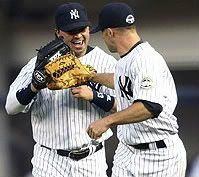 ESPN will be televising the Gold Glove Award show tonight at 10pm EST. I think it is a cool way to present an award but only if the award had, you know, good nominees.
The problem with the Gold Glove Award in recent years is that they have been awarded to horrible defenders who have faired well on offense. Sadly, an award that is meant to be awarded to the players with the best glove usually goes to someone who is a big name or put up good offensive numbers. It's tragic.
I prefer The Fielding Bible Awards to the Gold Glove Awards because they actually look at the defense and have a panel of people who care about who wins the award.
With that said, here is who I would vote for at each position to win a American League Gold Glove Awards:
Note: I did not include pitchers because I do not believe the metrics are enough for me to conclude a solid choice.
American League
Catcher: Matt Wieters (BAL) – This one was fairly easy to pick. He led the league with a +5.0 UZR and threw out 37% of attempted base stealers. He also finished second with 10 Total Zone runs saved and had the fewest amount of passed balls (one) while placing second in innings behind the dish with 1150.
First Base: Adrian Gonzalez (BOS) – Another easy choice here. He led the league with a +11.1 UZR and placed second with a .818 RZR. His 15 Total Zone runs saved were easily the best in the Majors with the second place finisher have just 3.
Second Base: Ian Kinsler (TEX) – This was extremely tough. Dustin Pedroia's name could easily be in place of Kinsler who led the league in defensive runs saved and placed second in UZR, RZR, and Total Zone runs. You have no idea how close this race was.
Third Base: Adrian Beltre (TEX) – Beltre, like Kinsler, narrowly edged out the competition with Evan Longoria and Alberto Callaspo fighting for that top spot. Beltre led in defensive runs saved, UZR, and RZR.
Shortstop: J.J. Hardy (BAL) – Another close call with Alexi Ramirez being a solid candidate and one I would not argue with. Hardy and Ramirez were neck-and-neck with each other and I chose Hardy for his slim lead in RZR.
Left Field: Brett Gardner (NYY) – Another easy choice here. Gardner led all of baseball in UZR with +25.2 and all of basbeall in Total Zone Runs with 32. He simply blew the rest of the left fielders away. It wasn't even close.
Center Field: Austin Jackson (DET) – This was close between Jackson, Peter Bourjous, and Jacoby Ellsbury. He finished first in Defensive Runs Saved, RZR, and Plus/Minus. He also finished second in UZR and fourth in Total Zone Runs.
Right Field: Nick Swisher (NYY) – I feel weird writing that but the metrics loved him. He finished first in Total Zone Runs (by a lot), and second in UZR. David DeJesus came in a very close second but he lacked the innings and Total Zone Runs for me to give him the nod. I still feel weird putting Swisher's name down.
-Jonathan C. Mitchell can be found writing about the Tampa Bay Rays at DRaysBay and you can follow him on twitter at @FigureFilbert and follow MLBdirt at @MLBdirt
Filed under: Digging Deep - Analysis Tagged: | Adrian Beltre, Adrian Gonzalez, Austin Jackson, Baltimore Orioles, Boston Red Sox, Brett Gardner, Detroit Tigers, Gold Glove Award, Ian Kinsler, J.J. Hardy, Matt Wieters, New York Yankees, Nick Swisher, Texas Rangers