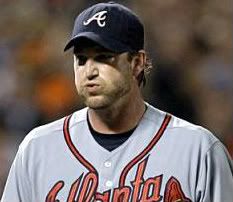 The Atlanta Braves have just sent starting pitcher Derek Lowe to the Cleveland Indians in exchange for a low minors left-handed pitcher according to reports. The Braves will eat all but $5M of Lowe's salary in this trade.
The Braves have had a busy day declining the option on Nate McLouth and exercising the option on Eric Hinske while trading Lowe in exchange for salary relief and Chris Jones, according to Buster Olney. Jones is a 23 year old left-handed reliever from my hometown of Tampa.
The Indians have also had a busy day declining the option on fan favorite Grady Sizemore while picking up the option on Fausto Carmona while adding Lowe at a discounted rate.
This move gives the Indians three of the top eight groundball pitchers from 2011. Lowe ranked 2nd with a 59% rate, Justin Masterson ranked 7th with 55.1% groundballs, and Carmona was 8th with 54.8% groundballs. Ubaldo Jimenez owns a career groundball rate of 50.3%. Fifth starter, Josh Tomlin, is a polar opposite with only a 35% groundball rate in his young career.
Having groundball pitchers, three of which have good strikeout rates, is a great asset to a team. But, the Indians ranked 28th in UZR last year and they were not even close to the 27th ranked team.
The main problem was from the middle infield duo. The Indians were dead last with a -21.5 UZR in large part thanks to the departed Orlando Cabrera and rookie Jason Kipnis. The Indians also ranked 28th in UZR at the shortstop position with a -15.1 UZR led by a -11.8 from Asdrubal Cabrera.
To make matters even worse, the Indians ranked 26th at first base with a -10.9 UZR between Carlos Santana and Matt LaPorta.
The only infield position with positive UZR was third base led by Jack Hannahan at +8.4 but he will likely not be starting at third with prospect phenom Lonnie Chisenall ready to take over. At least he was good with a +1.3 UZR.
The 2012 Indians starting infield may look like this: LaPorta at first, Kipnis at second, Cabrera at short, and Chisenhall at third. Not exactly what you want to see behind you when you could be the top groundball inducing rotation in all of baseball.
I cannot see them simply replacing any of those players outside of LaPorta. The only other plan would be to move Kipnis to center or left field and Cabrera to second and add an all-glove shortstop.
Most scouts thought Kipnis belonged in the outfield but his star prospectus relies on him staying at second.
If you are the Indians, do you make the moves and put Cabrera at second, Kipnis in left, and Michael Brantley in center and sign an all-glove shortstop to improve infield defense or do you stick with what you have and pray for regression to hopefully kick in?
It's a tough call but when you have three of the top eight groundball pitchers from last year and another with over 50% in his career you may want to highly consider shaking that middle infield defense up a bit.
-Jonathan C. Mitchell can be found writing about the Tampa Bay Rays at DRaysBay and you can follow him on twitter at @FigureFilbert and follow MLBdirt at @MLBdirt
Filed under: Digging Deep - Analysis Tagged: | Atlanta Braves, Chris Jones, Cleveland Indians, Derek Lowe, Fausto Carmona, Grady Sizemore, Justin Masterson, Trades, Ubaldo Jimenez