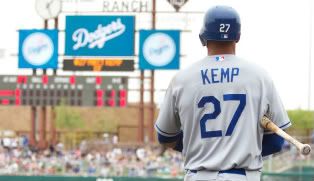 Picking the National League MVP was almost as difficult as picking the American League MVP.
It came down to a fight between two main candidates whose stats were similar in most areas.
With that said, here is my ballot for the Baseball Bloggers Alliance NL Stan Musial MVP award:
1. Matt Kemp (LAD) – Kemp hit .324/.399/.586 with 39 homeruns and 40 stolen bases while playing more than half of his games in pitcher's parks. He also played a passable center and was an excellent base runner with a +2.9 Bsr. He was 2nd in wOBA and wRC+ and led in both fWAR and rWAR and it was not even close.
2. Ryan Braun (MIL) – Kemp was 2nd in a few stats only because Braun was first. He led in wOBA and wRC+ while hitting .332/.397/.597 with 33 homeruns and 33 stolen bases. He was also an excellent base runner with a +3.3 Bsr. The reason Kemp was ahead of Braun was the positions they play and Kemp had 60 more plate appearances. This was almost as close as the AL MVP race.
3. Roy Halladay (PHI) – Like Verlander, Halladay was one of the most valuable players in his league, leading the way in most pitching categories.
4. Clayton Kershaw (LAD) – See Halladay. Nearly as good. Wouldn't argue with those who flipped the two.
5. Troy Tulowitzki (COL) – Man, I wish he did not get injured. He hit .302/.372/.544 with 30 homeruns and 9 stolen bases while posting a +7.3 UZR at short. Don't claim his home park had most to do with his stats because he was nearly as good on the road as he was at home. He may have made my top 3 had he not been hurt at the end of the season.
6. Joey Votto (CIN) – Votto led the league in OBP and overall hit .309/.416/.531 with 29 homeruns and 8 stolen bases while playing excellent defense at first with a +7.4 UZR.
7. Justin Upton (ARI) – Helped immensely by his home ballpark he hit .289/.369/.529 with 31 homeruns and 21 stolen bases. It wasn't just his offense that placed him on my ballot but his +7.7 UZR and +4.8 Bsr. He was a legit 5-tool player this year and was 4th in the NL with 6.4 fWAR.
8. Cliff Lee (PHI) – Nearly as good as Halladay and Kershaw. Check out the Cy Young ballot for all three starters' numbers.
9. Prince Fielder (MIL) – He hit .299/.415/.566 with 38 bombs. The defense and base running were bad but the offense was so good he had a place on this ballot. Can't ignore a .408 wOBA and 162 wRC+ that easily. Oh, he walked more than he struck out. True story.
10. Jose Reyes (NYM) – He may have only played in 126 games but he still accumulated 586 PAs and hit .337/.384/.493 with 39 stolen bases while playing short. His .386 wOBA and 149 wRC+ were both better than Upton's.
Just missed (in order) – Mike Stanton (FLA), Andrew McCutchen (PIT), Brandon Phillips (CIN), Lance Berkman (STL), Shane Victorino (PHI), Pablo Sandoval (SF)
-Jonathan C. Mitchell can be found writing about the Tampa Bay Rays at DRaysBay and you can follow him on twitter at @FigureFilbert and follow MLBdirt at @MLBdirt
Filed under: Digging Deep - Analysis Tagged: | Andrew McCutchen, BBA, Brandon Phillips, Clayton Kershaw, Cliff Lee, Joey Votto, Jose Reyes, Justin Upton, Matt Kemp, Mike Stanton, MVP, Pablo Sandoval, Prince Fielder, Roy Halladay, Ryan Braun, Shane Victorino, Stan Musial, Stan Musial Award, Troy Tulowitzki