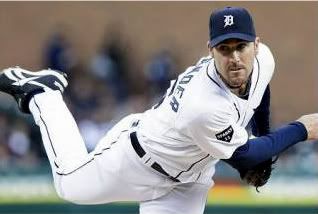 The Walter Johnson award is given, you guessed it, to the top pitcher in each league. The American League was fairly easy for me at one and two but it gets very crowded when you have to narrow slots 3-5 with a lot of great performances that happened this year.
Here is my official BBA ballot for the American League Walter Johnson award:
1. Justin Verlander (DET) – This was not as close as some want to say. Verlander led the league in innings (251), ERA (2.40), strikeouts (250), rWAR (8.5), ERA+ (170), H/9 )6.24), and WHIP (0.92). He was third in K/9 (8.96) but first among pitchers with more than 175 innings. He was 8th in BB/9 (2.04), 4th in FIP (2.99), 3rd in K/BB ratio (4.39), and 2nd in fWAR (7.0), xFIP (3.12), and WPA (4.9).
2. C.C. Sabathia (NYY) – Sabathia was very good and pitched in the AL East this year and still lead the league in fWAR (7.1) and xFIP (3.02) and was 2nd in FIP (2.88). He was 2nd in strikeouts (230), 4th in innings (237.1) and ERA+ (147), tied for 5th in HR/9 (0.64), and 9th in ERA (3.00). He, like the man third on this ballot, dominated in the toughest division in the game.
3. James Shields (TB) – I don't know how he cannot be in the top 3. He led the league in CG (11) and tied for the league in shutouts (4). He was a very close 2nd in innings with 249.1 and was 3rd in both ERA (2.82) and strikeouts (225) while pitching in the AL East. He had a solid K/9 (8.12) and BB/9 (2.35) and ranked 5th in WHIP (1.04) and 6th in H/9 (7.04). Oh, how can we forget the league leading 12 pick offs? It was hard to not place him second on this ballot but the home park and defense behind Shields helped a lot.
4. Jered Weaver (LAA) – He was 1st in WPA (5.2) and his 2.41 ERA is too good to ignore no matter the ballpark he pitches in. Couple that with finishing 3rd in H/9 (6.95), 2nd in ERA+ (158) and WHIP (1.01), 5th in innings (235.2), 8th in strikeouts (198), and 3rd in rWAR (6.6).
5. C.J. Wilson (TEX) – This Ranger finished 3rd in ERA+ (152), tied for 5th in HR/9 (0.64), 6th in strikeouts (206), 10th in innings (223.1), 7th in ERA (2.94), 8th in FIP (3.24), xFIP (3.41), and H/9 (7.70), and 9th in K/9 (8.30). He will head into free agency coming off of a remarkable career year.
Just missed (in order): Dan Haren (LAA), Doug Fister (DET/SEA), Ricky Romero (TOR)
-Jonathan C. Mitchell can be found writing about the Tampa Bay Rays at DRaysBay and you can follow him on twitter at @FigureFilbert and follow MLBdirt at @MLBdirt
Filed under: Digging Deep - Analysis Tagged: | BBA, C.C. Sabathia, C.J. Wilson, Cy Young Award, Dan Haren, Doug Fister, James Shields, Jered Weaver, Justin Verlander, Ricky Romero, Walter Johnson, Walter Johnson Award