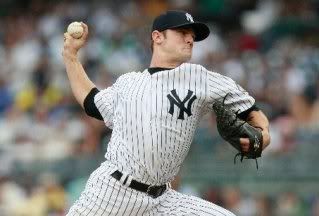 As a proud member of the Baseball Bloggers Alliance I continue my postseason awards ballot with the Goose Gossage Award. I think the name of the award sums up what it is about just perfectly.
American League
1. David Robertson (NYY) - He was the best reliever in the AL. His 1.08 ERA ranked 1st. His 13.50 K/9 also ranked 1st. He ranked 2nd in both FIP (1.84) and fWAR (2.8) and 3rd in xFIP (2.46). He only allowed one homerun in 66.2 innings and did this in a great hitter's park and in the toughest division in the Majors. He was also the only AL reliever to reach 100 strikeouts.
2. Jonathan Papelbon (BOS) – Robertson finished 2nd in a few main categories only because Papelbon finished 1st. He was 1st in FIP (1.53), xFIP (2.16), and fWAR (3.0) this past year. He was 3rd in BB/9 with a remarkable 1.40 and was 4th in K/9 at 12.17. One could argue that Papelbon may have been the best in the AL.
3. Koji Uehara (BAL/TEX) – In 65 innings all Uehara did was post a 2.35 ERA and place 2nd with a 2.33 xFIP and 1.25 BB/9. He also finished 5th with an 11.77 K/9. The icing on the cake was his 9.44 K/BB ratio, tops in the league. Oh, he also played most of his games in hitter's parks and in the AL East.
Just missed (in order): Greg Holland (KC), Alfredo Aceves (BOS), Mariano Rivera (NYY), Vinnie Pestano (CLE), Chris Sale (CHW)
National League
1. Craig Kimbrel (ATL) – My Willie Mays Award recipient is also the best reliever in the game. In 77 innings he posted major league bests in K/9 (14.84), FIP (1.52), xFIP (1.94), and strikeouts (127) among all pitchers with at least 54 innings pitched. He led all relievers with a +3.2 fWAR.
2. Sean Marshall (CHC) – Marshall led the majors (minimum of 54 innings) with a 0.12 HR/9 rate. He allowed one homerun in 75.2 innings in the windy city. His high groundball rate of 57.5% surely helped that mark. He ranked 3rd in FIP (1.86) and xFIP (2.50). He also ranked 2nd in with a 2.8 fWAR. He had a K/9 of 9.40 and BB/9 of 2.02. The results were a 4.65 K/BB rate which was 4th best in the NL.
3. Eric O'Flaherty (ATL) – He led all major leaguers in ERA with an absurdly low 0.98 mark. That is only the 5th time since 1901 that a pitcher has had an ERA below 1.00 with a minimum of 70 innings pitched. Oh, and had a great FIP of 2.54. He had a 55.5% groundball rate and only allowed 2 homeruns in 73.2 innings.
Just missed (in order): Joel Hanrahan (PIT) Jonny Venters (ATL), John Axford (MIL), Tyler Clippard (WAS), Sergio Romo (SF)
-Jonathan C. Mitchell can be found writing about the Tampa Bay Rays at DRaysBay and you can follow him on twitter at @FigureFilbert and follow MLBdirt at @MLBdirt
Filed under: Digging Deep - Analysis Tagged: | Alfredo Aceves, BBA, Chris Sale, Craig Kimbrel, David Robertson, Eric O'Flaherty, Goose Gossage, Goose Gossage Award, Greg Holland, Joel Hanrahan, John Axford, Jonathan Papelbon, Jonny Venters, Koji Uehara, Mariano Rivera, Sean Marshall, Sergio Romo, Tyler Clippard, Vinnie Pestano