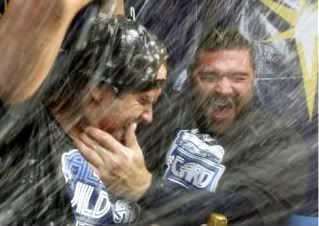 Get ready to be showered with links from last night's epic baseball adventure that is now being referred to as "Wild Wednesday."
Joe Posnanski said it brilliantly here:
Funny, if I was trying to explain baseball to someone who had never heard of it, I wouldn't tell them about Wednesday night. No, it seems to me that Wednesday night isn't what makes baseball great. It's all the years you spend waiting for Wednesday night that makes baseball great.
Peter Gammons writes that Baseball performed brilliantly while alone in the spotlight. Gammons has seen it all and he had this to say about last night:
On Wednesday night, I had the same feeling I had as a kid watching replays of Bobby Thomson's home run, or sitting in a dorm room in Groton, Mass., when Bill Mazeroski hit his, or hearing Ned Martin chant, "There's pandemonium on the field," in 1967.
Tony Pete of Orioles Hangout was at the O's game and suggests it was one of the best nights of his life.
Steve Slowinski of DRaysBay has the night in pictures. This is great!
Bradley Woodrum of Fangraphs asks "Do you believe in miracles?"
Chris Cwik of Fangraphs puts it simply: An Amazing Night
Fangraphs also gives us Jack Moore and his graph of the final day in the AL.
Al Yellon of SBNation asks where 2011 stands historically among collapses.
Here is a grieving Braves fan over at Talking Chop.
Harold Reynolds and Dan Pleasac react to the walk offs off-air.
MLB.com has a video of the Rays year in review.
Tons of Orioles links here over at Camden Chant including interviews with Buck Showalter and Robert Andino about the historic night.
Charlie Saponara of Fire Brand AL gives the Rays credit and admits a Red Sox collapse and looks forward the season ahead.
Pitchers Hit Eighth and C-70 At the Bat remind us that the Cardinals also came back from the depths to win the NL Wild Card.
Jamie Newcombe of Rays Colored Glasses and Devon Rogers of Rise of the Rays also write about the great night.
The Common Man over at The Platoon Advantage reminds us of the reality of the postseason and how hot streaks play into it.
Austin Gisriel of Seamheads reflects on last night and suggests it felt like tournament play. Oh, he likes the idea of tournament play too.
Chris Ross asks how can you not laugh at the Red Sox for thier collapse?
-Jonathan C. Mitchell can be found writing about the Tampa Bay Rays at DRaysBay and you can follow him on twitter at @FigureFilbert and follow MLBdirt at @MLBdirt
Filed under: Digging Deep - Analysis Tagged: | Atlanta Braves, Baltimore Orioles, Boston Red Sox, Links, St. Louis Cardinals, Tampa Bay Rays