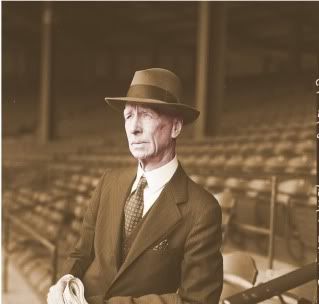 As a member of the Baseball Bloggers Alliance (BBA) I am obligated, nay, privileged to vote on the postseason awards among a slew of other awards I love to partake in. The first postseason award on our ballot is the Connie Mack Award. "What is the Connie Mack Award" you ask? Let me explain.
The Connie Mack Award is the award given to the top Manager each year by the BBA. If you are unaware of who Connie Mack is let me give a brief description: He won 9 pennants and 5 World Series. He was a player/manager for the Pittsburgh Pirates from 1894-1896 and became a full-time manager in 1901 with the Philadelphia Athletics and managed them for 50 straight years. As a member of the General Chapter of the BBA I can vote for both leagues and my ballot must be three deep.
With that said, here are my ballots with brief descriptions on why I chose who I did:
American League
1. Joe Maddon – He deploys more shifts than any other team in the game and it shows in the defensive metrics. He has taken a team that has only outscored 5 other AL teams, has been outscored by every AL East team, and has the 2nd worst batting average in the AL to a 90 win season and the brink of the playoffs. No manager has done more with less than Maddon has.
2. Joe Girardi - He lead the Yankees to the best record, the best run differential, and did it in the toughest division in all of baseball. He did it all without a legit starter behind C.C. Sabathia. Girardi may have the deepest pockets above him but he is the one who made it work when Derek Jeter, Alex Rodriguez, Joba Chamberlain, and Phil Hughes all got injured. With Jorge Posada and A.J. Burnett having pathetic seasons. And he made it look easy.
3. Manny Acta – I may be in the minority here but hear me out. Yes, the magical season that could have been faded in August but Acta lead this team to a .500 season and lost Grady Sizemore, Michael Brantley, Shin-Soo Choo, Travis Hafner, Josh Tomlin, Carlos Carrasco, and even rookie Jason Kipnis to injury. He only had two players play more than 114 games and only 5 reach 100 and only three starters surpassed 125 innings.
National League
1. Kirk Gibson – Really, who had the Diamondbacks winning the NL West? I sure as heck didn't. But they won and they won by a lot. He had no starting corner infielders to start the year, lost Stephen Drew to injury, and made David Hernandez a relief ace. Manager Kirk Gibson is as much to praise as anyone for bringing this team to the top and he deserves the Connie Mack Award.
2. Ron Roenicke – Taking notes from former coaching mate Joe Maddon, Roenicke deployed shifts on defense and it shows in the defensive metrics. This is a team with only one position that could be labeled as plus on defensive and about 5-6 that could legitimately be labeled below-average, yet the team has a near +13 UZR. This isn't a manager who simply lets his mashers mash and hopes to come out on top.
3. Terry Collins – He had a mess to start with, lost Carlos Beltran and Francisco Rodriguez to trade, Jose Reyes, Ike Davis, David Wright, Angel Pagan, and Daniel Murphy to injury, and had to piece together a starting rotation and bullpen. He still to reach more than 75 wins and had a winning record on the road. The team even picked up his 2013 option. He deserves some accolades for the work he did in New York.
******
Other BBA member ballots:
-Jonathan C. Mitchell can be found writing about the Tampa Bay Rays at DRaysBay and you can follow him on twitter at @FigureFilbert and follow MLBdirt at @MLBdirt
Filed under: Digging Deep - Analysis Tagged: | Arizona Diamondbacks, BBA, Cleveland Indians, Connie Mack, Connie Mack Award, Joe Girardi, Joe Maddon, Kirk Gibson, Milwaukee Brewers, New York Mets, New York Yankees, Ron Roenicke, Tampa Bay Rays, Terry Collins