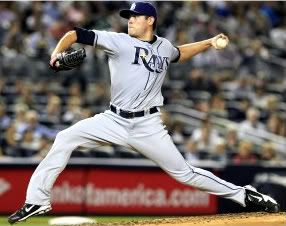 If you missed the Tampa Bay Rays against the New York Yankees last night then you missed the first ever start by the top pitching prospect in all of baseball. Spoiler alert: It gave me goosebumps and he was absolutely filthy!
Matt Moore went up against a somewhat depleted Yankee lineup last night but it still had Derek Jeter, Mark Teixeira, Nick Swisher, Andruw Jones, and Jorge Posada. Not to mention the start was in Yankee stadium and Moore is a mere 22 years old.
Moore had zero problems with this lineup and environment. He went 5 innings (84 pitches) and allowed only 4 hits, 1 walks, and struck out 11. You read that right, 11 strikeouts in 5 innings. That, my friends, is a record against the Yankees. No one, not rookies or veterans, has ever struck out that many in 5 innings against the Yankees.
Take a quick look at his pitch f/x chart from last night:
As you can see, Moore was not helped by the umpire (who gets props for calling a near perfect strike zone) and stayed around the zone the entire night, attacking hitters like he had been here before.
Moore's fastball average 94.5 mph on the night and he made it look easy with one of the most effortless deliveries I have ever seen. He had 7 swinging strikes with his fastball, 4 with his slider, and 4 with his change-up/splitter. 15 swinging strikes is nothing to joke about. He was just plain filthy.
Moore now has 15 strike outs in 9.1 innings in the big leagues against just 3 walks. It's a small sample size but very similar rates to what he has done in the minors throughout his professional career.
Very rarely am I left in awe of a performance but Moore's left me that way. The Rays have a ridiculously great problem on their hands as they enter 2012 with a rotation that is legitimately seven deep. With James Shields, David Price, Jeremy Hellickson, Moore, Jeff Niemann, Alex Cobb, and Wade Davis they can afford to shop two for bats because Moore might be the best among this already impressive group.
-Jonathan C. Mitchell can be found writing about the Tampa Bay Rays at DRaysBay and you can follow him on twitter at @FigureFilbert and follow MLBdirt at @MLBdirt
Filed under: Digging Deep - Analysis Tagged: | Alex Cobb, Andruw Jones, David Price, Derek Jeter, James Shields, Jeff Niemann, Jeremy Hellickson, Jorge Posada, Mark Teixeira, Matt Moore, Moore, New York Yankees, Nick Swisher, Tampa Bay, Wade Davis