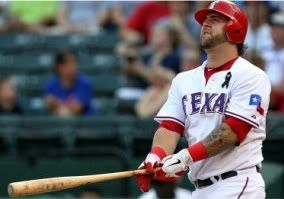 Catching when your manager was a former catcher himself can't be easy. We've all seen the tensions in New York with the demotion of Jorge Posada under Joe Girardi's tenure there as manager. Apparently the same was going on for the Angels as Mike Napoli couldn't find his way into Mike Scioscia's every day line up. It was no surprise then that the Angels traded Napoli in that gosh awful Vernon Wells trade to Toronto. The Blue Jays then sent Napoli to the Rangers, the Angels' chief rival in the American League West. The move has done more to cost the Angels 2011′s division chances more than any other single transaction this year.
We won't discuss how bad Vernon Wells has played this season for the Angels. Instead we'll focus on Napoli's worth compared to the players in the Angels' line up that have replaced Napoli's plate appearances. You can't add Jeff Mathis to the equation either as Mathis would have gotten into Scioscia's line up whether Napoli was there or not. Scioscia loves his Jeff Mathis because of that catcher's defense. Never mind that Mathis is one of the worst offensive players in baseball. We've yet to see a good defensive metric for catchers, so we'll have to take Scioscia's word for the fact that Mathis adds enough value behind the plate to make up for his lack of worth beside it.
And so we'll have to compare Mike Napoli's worth for the Rangers as a DH, part-time catcher /part-time first baseman /part-time DH compared to what the Angels have produced from Hank Conger, Russell Branyan, Bobby Abreu and others. Well…there is no comparison. Mike Napoli has compiled an fWAR of 5.2 this season. Branyan yielded no value. Conger's WAR is 0.4. Abreu's total WAR in the field and mostly as the DH is 1.4. So basically, you have 1.8 worth of WAR that replaced Napoli's 5.2.
But it goes beyond that. That 5.2 of fWAR that Napoli has compiled could have been compiled for the Angels. Napoli has fifty extra base hits for the Rangers including 26 homers. Inject those numbers on a tepid Angels' offense and you have some runs scored for that wonderful pitching staff the Angels possess. Conger and Abreu have thirteen homers between them. Branyan hit four more. So doing some lazy math, the Angels trading Napoli probably cost them some six or seven wins this season. And yes, the Angels are 4.5 games back of the Rangers for the division with two weeks to play.
Heck, a miracle could happen and the Angels could win all their games and the Rangers could lose all theirs making the Angels the champs, but that doesn't seem likely, does it? There are lots of wonderful things you can say about Mike Scioscia as a manager. His former coaches are winning all over baseball. But in this case, Scioscia signed off on sending Mike Napoli out of town and darned if that gunslinger didn't end up in the middle of the Rangers' line up. The Angels shot themselves in the foot on this one.
P.S. While researching this piece, another take on the same topic was written by Jack Moore over at Fangraphs. The conclusions are the same. Trading Mike Napoli probably cost the Angels the AL West.
-William J. Tasker, a/k/a The Flagrant Fan, a knowledgeable and passionate baseball fan that can be followed on twitter and found writing daily at his blog
Filed under: Digging Deep - Analysis Tagged: | Angels, Bobby Abreu, Hank Conger, Los Angeles Angels, Mike Napoli, Mike Scioscia, Russell Branyan, Texas Rangers