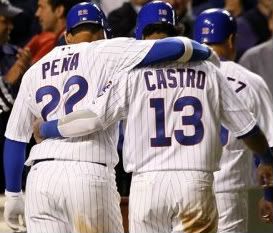 As I was looking through the league leaders this morning I kept noticing the same names at the top of most stats. Matt Kemp, Roy Halladay, Clayton Kershaw, Jose Bautista, Justin Verlander, yada-yada-yada. But a few names jumped out at me that I had no clue how good, or bad of a season they were having. Here are a few of those names and their stats and ranks:
Hitters
Hits: Adrian Gonzalez leads the AL in hits and Starlin Castro the NL. It surprised me because Gonzalez has walked in over 15% of his plate appearances the past two seasons and hit leaders don't walk that much. He is down to 9.6% this year. Castro, on the other hand, never walks (4.4% this year and 5.0% for his career) and he hits at the top of the order with a .300+ average. I was simply shocked to see a Cubs player at the top of any good stat.
RBI: Ryan Howard is usually at the top but I was surprised to see him there this year with his .249 average and Chase Utley and Shane Victorino missing time getting on base in front of him. Jamey Carroll has the fewest RBI for a qualified batting title leader with 13 in 477 PAs. Next lowest was Kosuke Fukudome with 30. You have to have people on in front of you to get RBI.
BB%: Another Cub is at the top and this time it is Carlos Pena with a 15.9% walk rate, just ahead of Joey Votto. I guess when you bat behind Castro and Darwin Barney pitchers have only used about 4 pitches and they can work around the power hitting Pena.
UZR: Remember, this is a counting stat like hits and RBI. I was shocked to see Placido Polanco leading the NL with a +11.9 in only 109 games. At the bottom of the AL was a recognizable name in Mark Reynolds but his -26.6 UZR was shockingly bad.
Games Played: Prince Fielder and Miguel Cabrera top their league's games played list. Those are some big names but a bit shocking, to be quite honest.
Doubles: Tied at the top of the AL are Alex Gordon and Ben Zobrist with 45 apiece. Zobrist never had more than 28 in a season. At the bottom of the NL, among batting title qualifiers, was Polanco with 12. It struck me as odd because he has averaged 32 the past four seasons.
Strikeouts: I knew Drew Stubbs struck out a lot but 191 times so far is insane and 26 more than Ryan Howard. No surprise in the AL with Mark Reynolds at the top with 182.
Pitchers
HBP: Shaun Marcum is the only pitcher qualified for the ERA title to not hit a single batter with a pitch. He hit 6 last year and 8 the year before. Tim Hudson, who displays solid control with a 2.45 BB/9 rate, leads the NL with 14 hit batters.
Wild Pitches: Nationals reliever Henry Rodriguez leads the NL with 13 in only 59.1 innings pitched. That's right, a reliever! Hiroki Kuroda is 2nd with 12 but in 183 innings. A.J. Burnett is not a surprise at the top of the AL but the 25 wild pitches in made me say "wow!" and in only 178.1 innings. Still not even close to Rodriguez's wild pitch rate, though.
Intentional Walks: Chris Resop and Shawn Camp lead their respected leagues with 9 intentional walks and neither has eclipsed 70 innings pitched. Bad timing, I guess.
Fastball Velocity: Alexi Ogando is tied with Verlander in fastball velocity (among ERA title qualifiers) with 95.0 mph. Livan Hernandez's fastball at 83.9 mph is slower than knuckleballer R.A. Dickey's fastball.
Fastball Value: Ian Kennedy leads the majors with a +30.7 wFB. Who would've known?! A.J. Burnett, who averages nearly 93 mph on his fastball, is dead last with a -28.3 wFB.
-Jonathan C. Mitchell can be found writing about the Tampa Bay Rays at DRaysBay and you can follow him on twitter at @FigureFilbert and follow MLBdirt at @MLBdirt
Filed under: Digging Deep - Analysis Tagged: | A.J. Burnett, Adrian Gonzalez, Alexi Ogando, Carlos Pena, Chris Resop, Clayton Kershaw, Drew Stubbs, Henry Rodriguez, Hiro, Hiroki Kuroda, Ian Kennedy, Jamey Carroll, Jose Bautista, Justin Verlander, Livan Hernandez, Mark Reynolds, Matt Kemp, Miguel Cabrera, Placido Polanco, Prince Fielder, R.A. Dickey, Roy Halladay, Ryan Howard, Shaun Marcum, Shawn Camp, Starlin Castro, Tim Hudson