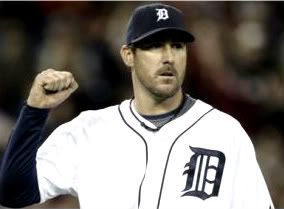 Thanks to Justin Verlander's already remarkable season there has been a lot of good debate on what an MVP is and who can and should win the award.
The main debate settles on whether a pitcher should be able to win the award due to the fact that they already have the Cy Young Award. If that logic stands then we need to take rookies out of the equation because they have an award and all solid defensive players because they also get hardware in the form of a Gold Glove. By this logic the MVP should be awarded to the best offensive performer, and in all honesty, it has been on many occasions. What people tend to forget is that hitters also receive an award called a Silver Slugger and an even more prestigious Hank Aaron award, which is the hitter's equivalent of the Cy Young Award. I think the term "logic fail" applies here.
Another argument we hear in this debate is that pitchers only play in about 200-225 innings or 30-35 games. While this may be true we seem to be forgetting the amount of impact those 200+ innings have but let me share a few tidbits first.
David Ortiz finished 2-4 in the MVP for four consecutive years from 2004-2007 and in those four seasons he averaged 684 plate appearances and only 113 or so innings in the field playing below average first base nonetheless. Voters still had no problem giving him first place votes and helping him land 2nd, 3rd, and 4th twice in the MVP voting even though he impacted less than 700 plate appearances with his bat and made a negative impact with his glove which negates a little of the value he held with his bat. I remember people up in arms in 2005 and 2006 about Ortiz not winning the award because, again, the MVP had somehow become the best hitter's award.
Jose Bautista is having the best offensive season of anyone in either league. He currently leads the league in homeruns, walks, OBP, SLUG, OPS+, wRC+, wOBA… You get the point. He, like Ortiz, will end up impacting the game in less than 700 plate appearances with his bat. But, unlike Ortiz, Bautista actually plays the field and plays a few positions. His current dWAR has him above-average but his current UZR has him below average. Even if he is simply average we have to give him credit for 1200 or so innings he will accumulate in the field by the end of the year and playing a position on par with his peers. This is by far more valuable than the same amount of PAs and not fielding a position but 10-12 games a year and fielding it poorly.
Back to Verlander (or any pitcher for that matter). We see that a full-time hitter who hits near the top of the order will impact the game in roughly 700 PAs throughout the year. Did you happen to know that a pitcher like Verlander or Roy Halladay impact the game in nearly 1000 PAs over a full season? Verlander is currently on pace to face about 993 batters this year. Sure, a pitcher only plays 200-220 innings in the field and only fields roughly 50 plays but they impact 250-300 more plate appearances than a hitter does throughout any given year and they are tasked with controlling the running game as well.
Do the extra 1000 innings in the field equal the extra 250-300 affected plate appearances? Is there one that out-weighs the other? That is a question that is hard to quantify but even if a player makes a play every third inning that equates to 333 plays over those extra 1000 innings. Those also are not plays that are inversely affected by the hitter or pitcher, though, and should carry less value.
Bottom line is that there is no logical reason a starting pitcher should not be able to win the MVP award, we just have to dig a little deeper and unveil the true value that pitcher holds. The fact a starting pitcher plays once every five games does not negate the fact that he has nearly as much of an impact on the game as a full-time position player does. If a starting pitcher holds more value than a position player then he should be considered for the MVP award. Period.
-Jonathan C. Mitchell can be found writing about the Tampa Bay Rays at DRaysBay and you can follow him on twitter at @FigureFilbert and follow MLBdirt at @MLBdirt
Filed under: Digging Deep - Analysis Tagged: | Cy Young Award, David Ortiz, Gold Glove Award, Hank Aaron Award, Jose Bautista, Justin Verlander, MVP, Rookie of the Year, Silver Slugger Award