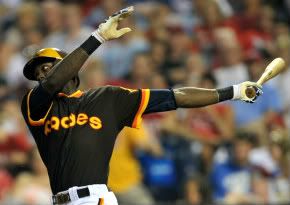 Cameron Maybin is a 24 year old center fielder who has the build of a star wide reciever in the NFL and the wheels of a track star. His athleticism is off the charts yet he is already on his third Major League team. Most of that is because he has been a super talent that has yet to reach his potential and trade partners love players like that.
Maybin, in his first year as a San Diego Padre, got off to a fairly slow start posting just a .244/.308/.388 triple-slash line in 224 plate appearances through June 20th with just 7 stolen bases but his defense kept him in the game. Thank God for his great defense because if he were benched then he wouldn't have been able to post a .307/.353/.422 line over 235 PAs since June 21st that also includes 25 stolen bases against just being caught twice attempting to steal.
Some will point out that luck and his BABIP have a lot to do with it, and while it does have something to do with it the jump in BABIP is largely thanks to Maybin squaring more balls up and posting a much higher line-drive rate over that second part of the season. There are also some that would look at Maybin's numbers and see his .277/.331/.406 line and claim he has yet to arrive. May I remind those naysayers that Maybin plays in PETCO park. Ask Adrian Gonzalez if he's happy to be out of the park where hitter's dreams go to die. Maybin has hit a dismal .235/.291/.324 at home but .316/.369/.484 on the road. When you balance for park effects he is hitting 19% better than the league average (wRC+ of 119) and he plays one of the top demanding positions in the game.
Maybin is 7th among all center fielders in fWAR with 4.0. He is spectacular in center with a +5.8 UZR and he is a great base runner with a +2.4 Bsr. The best part about Maybin is that he still has room to grow. He still needs to work on his plate discipline a bit and learn to lay off the slider down and away. But other than the discipline issue the kid is becoming a star and should finish the 2011 season with near a 5 fWAR, 10+ homeruns, 40+ stolen bases, and one of the most ridiculous home/road splits against any player in the league.
Cameron Maybin's maturation at the plate coupled with his youth and ability to play plus defense and run the bases better than 99% of the league are the reasons he is my 2012 darkhorse MVP candidate. You read that correctly. Maybin has arrived and still has more to offer. It is time we all started paying closer attention becasue a star was born this 2011 season and most of us did not even notice.
-Jonathan C. Mitchell can be found writing about the Tampa Bay Rays at DRaysBay and you can follow him on twitter at @FigureFilbert and follow MLBdirt at @MLBdirt
Filed under: Digging Deep - Analysis Tagged: | Cameron Maybin, San Diego Padres