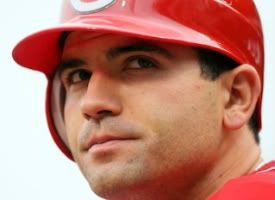 What a difference a year makes, eh? Last year, the Reds and the Padres were the toasts of the town as their improbable resurgences propelled them to unparalleled story lines. Joey Votto was at the top of those story lines as he made a run at MVP and overtook the great Albert Pujols to win that title. Flash forward to this season and the Padres have sunk to oblivion, the Reds haven't been a factor in the National League Central and Joey Votto has disappeared from view. Votto has become invisible.
Which is a real shame as Votto is having another wonderful season. Justin Upton and Troy Tulowitski have correctly been on most writers' minds for MVP and you have a smattering of talk of Prince Fielder, Ryan Braun and Matt Kemp in those conversations. But Votto is right behind the leaders in fWAR this season and some of his statistics are even better than last year. Has the Reds' season put him that far out of the limelight?
Let's look at Votto's season. He is currently batting .320 and if he maintains that batting average, it will be the third straight year with a BA above .320. Do most people realize that? This writer would bet not. His on base percentage is the highest of his career at an incredible .434.  That on base percentage leads the National League by a wide margin over Prince Fielder's .416. Whenever talking about OBP, you have to look at the intentional walks. Votto has had his share with ten. But Fielder has been intentionally walked twenty-one times!
Votto's slugging percentage is down from last year's amazing .600 tally in that statistic. But how many teams would love to have a guy slugging Votto's current .531? Due mostly to the difference in slugging percentage, Votto's OPS is 59 points lower than last year. But golly, his OPS is a robust .965! You would think a player performing at that level would get some ink somewhere.
Votto is currently first in on base percentage, third in batting average, twelfth in slugging, second in wOBA, second in wRC+ and fifth in WAR among all National League Players. Although the fielding statistics indicate that Votto is having an outstanding year in the field, the burgeoning fielding stats of Justin Upton and Troy Tulowitski are the chief reasons those two rate above Votto in WAR.
Power wise, Votto is behind last year. He started slowly in the home run department. He only hit thirteen in the first half but has already hit eight in the second half. Votto's second half OPS stands at 1.021, right behind last year's ending total of 1.025. And just so nobody can say that Votto benefits from playing in a cozy hitting ballpark, Votto's OPS is much higher on the road this season.
Joey Votto is having another outstanding season. By the time the season is over, his value earned could be just as high as last year. He is easily among the best players in his league and playing at a position that includes a lot of mashers (first base), Votto is the current chief among those mashers. This writer still thinks the defense of a first baseman is highly underrated and Votto is one of the best there too.
The Reds are dead in the NL Central after winning the thing last year. They sit at a -6 in their Pythagorean win-loss record compared to their actual record. They have been a dysfunctional outfit led by a questionable manager. As such, they have been absent from most nationally televised broadcasts. All of that is a factor into why Joey Votto's season has gone by so quietly. But the guy is a stud and one of the best players in the game.
-William J. Tasker, a/k/a The Flagrant Fan, a knowledgeable and passionate baseball fan that can be followed on twitter and found writing daily at his blog
Filed under: Digging Deep - Analysis Tagged: | Albert Pujols, Cincinnati Reds, Joey Votto, Justin Upton, Matt Kemp, MVP, Prince Fielder, Ryan Braun, Troy Tulowitzki