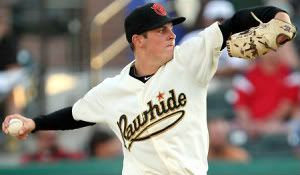 The first place Arizona Diamondbacks, you read that correctly, have patched together a pitching staff that has actually been somewhat serviceable this year but without fail they are, again, finding themselves having to add another pitcher. Jason Marquis, who was part of the patchwork process, is going to miss 4-6 weeks and Wade Miley is being called up to replace him in the overachieving rotation.
Miley has performed well in triple-A and is a decent 5th starter prospect but he is not someone you want starting games in August with only a two game lead in the National League West. I am hoping this is a one start only deal because 2011 first round pick Trevor Bauer is waiting in the wings and ready for Major League hitters.
Bauer has only pitched in four games in his young professional career but he has blown past High-A and Double-A hitters. In the small sample size of 14 innings he has 25 strikeouts and only 5 walks with a 1.93 ERA. Even though it is a small sample it's proof of his stuff, which is that of an ace, and he is better than any other option out there including the guys who have cleared waivers.
I also do not trust Josh Collmenter to keep it up with only a 33% groundball rate and 5.91 K/9 and I definitely do not trust Joe Saunders and his 4.88 K/9 and 4.66 FIP. Swingmen Zach Duke and Micah Owings are hardly better than Wade Miley at this point.
Even if the Diamondbacks go with Miley or one of the trade options out there they could still use Bauer out of the pen. Those 25 strikeouts in only 14 innings is evidence of his pure stuff and in short stints I do not doubt his arm would be very valuable coming out of the pen even with David Hernandez and J.J. Putz putting up good numbers at the back of the pen. But outside of Hernandez and Putz the pen is spotty at best and there aren't many bats being missed.
One thing is clear, the Diamondbacks still need pitching help, whether it be in the rotation or in the pen, and I expect to see Bauer up very soon. If I ran the team I would call him up in 4 days and insert him as the #3 starter behind Daniel Hudson and Ian Kennedy and send no apologies for doing it.
-Jonathan C. Mitchell can be found writing about the Tampa Bay Rays at DRaysBay and you can follow him on twitter at @FigureFilbert and follow MLBdirt at @MLBdirt
Filed under: Digging Deep - Analysis Tagged: | Arizona Diamondbacks, Daniel Hudson, David Hernandez, Ian Kennedy, J.J. Putz, Jason Marquis, Joe Saunders, Josh Collmenter, Micah Owings, Prospects, Trevor Bauer, Wade Miley, Zach Duke