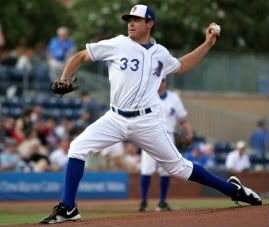 Photo by Kailey Farmer
Back in 2007 the Tampa Bay Rays wisely used an 8th round pick in the draft on a left handed kid named Matthew Moore. The Rays gave him a $115,000 signing bonus and sent him to Princeton to begin his professional career. He logged only 20.1 innings but it was an impressive 20.1 innings.
The Rays sent Matt Moore back to Princeton in 2008 and his stats there, combined with his 2007 stint, were impressive: 74.2 innings, 1.93 ERA, and 106 strikeouts against 35 walks and only 1 homerun allowed. The Rays new, by now, that they got a potential steal in the draft just the year before. Moore was blowing his fastball by hitters and buckling their knees with his curveball. The only knocks against him were his control and command which left his pitch counts up.
The Rays, who move their prospects along slowly, sent Moore to A-ball in 2009 where he did more of the same. In 123 innings he had a 3.15 ERA, struck out a whopping 176 hitters, and allowed only 6 homeruns. But, the walks were still an issue with 70 and he had 13 wild pitches. At this point in his minor league career some of the media outlets were noticing Moore and he would find himself ranked 35th in Baseball America's top 100 prospects and 81st of Keith Law's list the next year.
The Rays moved him up one more level to High-A in 2010 and increased his workload again. How did he do in High-A? You guessed it; Moore did more of the same. In 144.2 innings he sported a 3.36 ERA and led the minors in strikeouts with 208 and allowed only 7 homeruns. The walks, while still a little high, were improving as he walked just 61 in more innings and only 10 wild pitches at a higher level. He would find himself now ranked 15th in BAs annual prospect list and 16th in Keith Law's.
The Rays then moved him up to Double-A to start 2011 and there were a lot of eyes on Moore since Double-A is regarded as the biggest test for a prospect. Well, Moore passed the test with a 2.20 ERA and 131 strikeouts in only 102.1 innings and 8 homeruns allowed. Moore also limited his BB/9 for a third year in a row and had only 28 total. He would then earn a call-up to Triple-A where he has been the most impressive with a 1.09 ERA and 39 strikeouts in 24.2 innings and only 1 homerun and 5 walks allowed.
Moore's overall 2011 line is something to admire: 1.98 ERA, 170 strikeouts, 9 homeruns allowed, 33 walks, and only 4 wild pitches in 127 innings. Moore now sits top 3 on most mid-season prospect lists. The Rays have moved him along at a level-per-year pace and he has improved his BB/9 since A-ball (5.1 to 3.8 to 2.3), his K/BB rate (2.51 to 3.41 to 5.15) and has maintained at least 12.0 K/9 each year in the minors.
If the Super-Two problems did not occur then Moore might find himslef forcing his way into an impressive and crowded 2012 Rays rotation to start next year. But it appears more likely that Moore will spend at least the first few months embarrassing Triple-A hitters before bringing his 3 plus pitches to Major League parks around America. The only flaw on Moore's resume is his Scott Kazmir like pitch count problems and that is with his improved control. But there is still no question about it, Moore is currently ready to attack Major League lineups and belongs in the Majors.
-Jonathan C. Mitchell can be found writing about the Tampa Bay Rays at DRaysBay and you can follow him on twitter at @FigureFilbert and follow MLBdirt at @MLBdirt
Filed under: On the Farm - Prospects Tagged: | Matt Moore, MLB Draft, Prospects, Scott Kazmir, Tampa Bay Rays