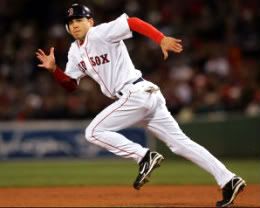 I remember doing fantasy drafts in 2008 where people were predicting a kid named Jacoby Ellsbury to hit over .300 with 15+ homeruns and 50+ stolen bases solely based on his first stint in the majors. The 127 plate appearance stint saw Ellsbury hit .353 with 3 homeruns and 9 stolen bases. Red Sock fans and fantasy owners were drooling at the potential future of this kid.
I also remember scouts saying there is no way Ellsbury will hit 10 homeruns, let alone 15 or more but the speed was legit. Well, as usual, the scouts were right. Ellsbury went on to hit .280 with 9 homeruns and 50 steals in 609 PAs. A great line, especially for fantasy, but not the Carl Crawford production fantasy owners were hoping for.
Ellsbury would go on to 2009 and have an even better fantasy campaign but fantasy owners seemed to have cooled on him a bit, realizing he was not Carl Crawford. He hit .301 with 8 homeruns and stole 70 bases in 693 PAs this time around. This left fantasy owners, who slightly overdrafted him in 2008, kicking themselves for undervaluing him in 2009.
Now that owner's expectations of his power were tempered, Ellsbury's stock had gone back up and fantasy thanks to a high average and tons of steals. In 2010 we were seeing Ellsbury's name called very early and owners were drooling at the idea of a 10 homer 70 steal season with a .300 average. Well, injuries led to Ellsbury getting a total of 84 PAs of a .192 average and no homeruns and 7 steals and fantasy owners were left with a wasted high draft pick.
Ellsbury's stock had fallen again. He was drafted near the 5th round, on average, in 2011 fantasy drafts, and owners were hoping for something close to 2008 when he hit .280 with 9 homeruns and 50 steals. Well, owners who were lucky enough to land Ellsbury have the current fantasy MVP and possible regular season MVP.
Ellsbury currently ranks tied for first in ESPN's fantasy player rater with Matt Kemp and he ranks 3rd in the majors in fWAR with +5.9, behind only Jose Bautista and teammate Dustin Pedroia. His current triple-slash line is .318/.374/.517 and he has defied all scouts and surprised all fantasy owners with 19 homeruns. You read that correctly, 19 homeruns, almost doubling his 20 career homeruns coming in to the season. Oh, he also still steals bases when he is not rounding them and has 31 on the season. His offense is not the only thing bringing him value. He has a +7.5 UZR in center field with 5 assists and no errors.
Ellsbury is making the 2008 fantasy owners predictions come true only four years after predicted. Ellsbury's 2011 season is going to force two owners to pay big for this potential MVP. In fantasy you will have to use a 1st round pick on him or drop some serious cash in auction formats and the Red Sox front office will look to lock him up to an extension but with free agency looming in 2014 and Scott Boras as his agent the Red Sox will have to go big or be happy with the few years of arbitration Ellsbury has left. The price may be steep for a guy who's value has been a rollercoaster but can fantasy owners and Red Sox brass afford to let this fantasy and regular season MVP candidate pass them by? I don't think so.
-Jonathan C. Mitchell can be found writing about the Tampa Bay Rays at DRaysBay and you can follow him on twitter at @FigureFilbert and follow MLBdirt at @MLBdirt
Filed under: Digging Deep - Analysis, Fantasy Tagged: | Boston Red Sox, Carl Crawford, Dustin Pedroia, Fantasy, Jacoby Ellsbury, Jose Bautista, Matt Kemp